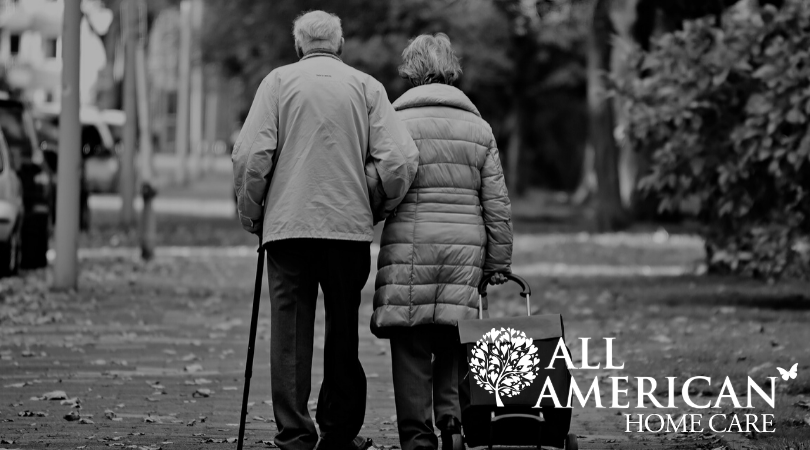 5 Signs Your Loved One Needs In Home Care
January 02 2020
And Why You Shouldn't Wait for all 5 Signs to Seek Help
Often, we overlook the warning signs that it is time our loved one receives home care. It could be that we are busy and are not noticing the small signs or we may be in denial about the health and well-being of our loved one. Dealing with our own mortality and that of our loved ones can be especially hard to come to terms with.
But as we get older, it can be hard to do certain things on our own. Daily tasks become harder and take longer to accomplish. Our bodies start to degenerate, making it difficult to move about the house. Our cognition even declines as we age. Your loved one may not want to tell you they are having issues with these things–it could be because of pride or because they don't want you to worry. So it is key that you pay attention to these 5 warning signs that your loved one needs home care.
Difficulty Walking
1Pay attention to how your loved one moves about. Do they hold onto furniture or the walls as they walk about the house? Do they have an unsteady gait? Have they recently had a fall or a few "near falls?" Do they have unexplained bruises or cuts? These could all be signs that your loved one is having difficulting walking. Even a moderate fall can become a severe injury for older adults and could end their ability to live independently. A caregiver will be able to help your loved one navigate their home safely and serve as an extra set of eyes to ensure the home is as safe as possible.
Difficulty Driving
2Driving ourselves is one of the greatest forms of independence and it may be hard to ask your loved one to give up the keys, but if you notice unexplained scratches or dents in your loved one's car, that may be a sign that it is no longer safe for them to be driving. If your loved one is also experiencing a decline in their vision or hearing, it may also be time to ask them to give up the keys. You'll notice some of these symptoms in the form of the TV being louder than usual, or they don't enjoy reading the newspaper like they once used to. Some home care agencies offer transportation, or they can connect you with your local senior center to find transportation for your loved one if you are unable to drive them when needed.
Unkempt House or Personal Appearance
3Is your loved one not as put together as they normally are? Do they seem to be falling behind on hygiene? Is laundry piling up? Are dishes not getting washed? Limitations in mobility and changes in cognition can affect all of these things. A home caregiver will be able to help your loved one bathe and get dressed. They can help with other hygiene tasks and even do some light housekeeping.
Struggling with Meals
4Have you noticed your loved one losing weight? Does it take them longer to eat a meal? Or perhaps you have noticed they don't cook as often as they used to. Is their fridge stocked up with several of the same items? These can be signs of mobility issues as well as appetite and cognitive changes. As we age, nutrition can become especially important to stay strong and healthy. A caregiver will be able to help cook meals and even help feed your loved ones if they need it. If they provide transportation services, they can even help your loved one go grocery shopping.
Change in Mood
5Does your loved one seem more sad? Many seniors can feel isolated as they age, causing depression. Or maybe you have noticed they've become more aggressive. This can be a sign of dementia. Not only can a caregiver help your loved one live more independently in their own home, but they also provide companionship. Our mental health is just as important as our physical health, no matter our age.
It is important to remember to not wait until your loved one has fulfilled all 5 of these warning signs. If you notice even just one of these warning signs, it is time to have a conversation with your loved one. Remember to approach them from a place of love and concern. Listen to them and don't be offended if they get angry at the suggestion of home care. For some of our loved ones, it can be hard to admit they need some help. Or, they may not want a "stranger" in their home. The safety and happiness of your loved one is of the utmost importance. So if they seem hesitant at first about the idea of home care, keep talking to them about it. Be sure to also share your concerns with them. If they continually refuse care, ask them to start small by doing it on a trial basis. And if they need an extra push, perhaps a talk with their doctor will convince them.