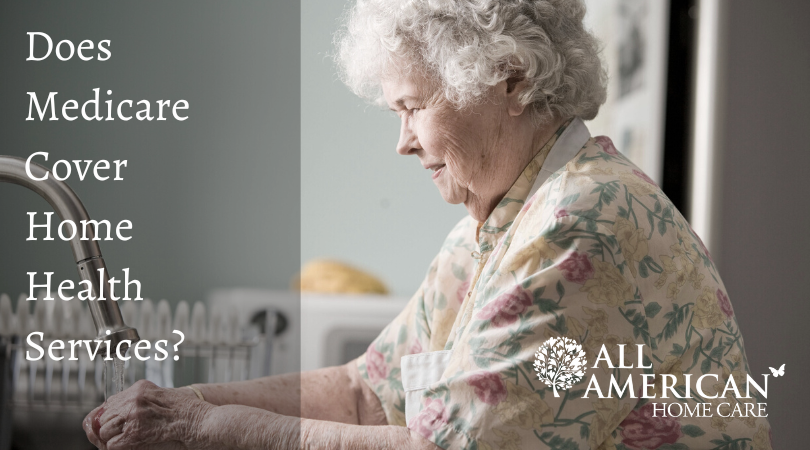 Does Medicare Cover Home Health Care Services?
March 14 2023
What Medicare Covers and Doesn't Cover for Home Health Services
Home health services aren't just more convenient and comfortable, they actually promote better healing!
A 2020 study found that receiving health care at home reduced both costs and readmission rates to the hospital. In fact, costs were nearly 40 percent lower and readmission rates were 70 percent lower. 
Does all of this sound great to you? If it does, you probably are wanting to know what Medicare covers in the form of home health services and what your costs may be.
What is Home Health?
Home health care is very much like the care you would receive in a hospital or long-term care facility. Treatment can be general medical care or specialized medical care. A doctor, nurse, home health aide, therapists, social worker, and religious leader are all part of a patient's home care team. 
What Does Medicare Cover?
It's always best to speak with your Medicare advisor, however, we'll take a look at the general services that are often covered. Medicare Part A (hospital insurance) and/or Medicare Part B (medical insurance) cover eligible home health services such as:
Part-time or intermittent skilled nursing

Physical therapy

Occupational therapy

Speech-language pathology services

Medical social services

Part-time or intermittent home health aide care (only with skilled services like nursing and/or therapy)

Injectable osteoporosis drugs for women

Durable medical equipment

Medical supplies for use at home
It is important to note that a home health agency must be Medicare certified for home health care to be covered by your insurance. 
What Medicare Doesn't Pay For
24-hour a day care at home

Meals delivered to your home

Homemaker services (shopping, cleaning, laundry) that aren't related to your care plan

Custodial or personal care that helps with daily living activities (dressing, bathing, or using the bathroom) when this is the only care you need
Who's Eligible?
All people with Part A and/or Part B who meet all of these conditions are covered:
Must be under the care of a doctor and you must be getting services under a plan of care created and reviewed regularly by a doctor

You must need, and a doctor must certify that you need, one or more of the following:

Intermittent skilled nursing care (other than drawing blood)

Physical therapy, speech-language pathology, or continued occupational therapy services

You must be homebound, and a doctor must certify that you're homebound (you can still get this benefit if you can leave for medical treatment, short non-medical reasons such as attending religious services, or to attend adult day care)
You are not eligible for the home health benefit if you need more than part-time or intermittent skilled nursing care. 
What are the Costs?
Those eligible for the home health benefit pay:
$0 for covered home health services

20% of the cost of the Medicare-approved amount for covered medical equipment after meeting your Part B deductible 
Before starting home health, your agency should tell you how much Medicare will pay. They should also inform you of any items or services they give you that aren't covered by Medicare and how much you'll have to pay for them. 
Note: If you get services from a home health agency in Florida, Illinois, Massachusetts, Michigan, or Texas, you may be affected by a Medicare demonstration program. For more information, call 1-800-MEDICARE. 
Other things that can affect your cost for a test, item, or service include:
Other insurance you may have

How much your doctor charges

If your doctor accepts assignment

The type of facility

Where you get your test, item, or service
The Key Takeaways
There are many great advantages to receiving health care in the comfort of your own home. With the right agency that is Medicare certified, you'll get expert and personalized care that will improve your quality of life.
When it comes to cost, it's always important to speak to your Medicare advisor or health insurance. The agency you select should inform you of what, if any, costs you may have beyond what Medicare covers. 
Experts in Home Health
At All American, we are dedicated to providing the highest quality in home health and personal care services for our community! Each of our patient's needs are carefully assessed and fully met by our trustworthy and compassionate care team. Our team is always available and can provide many services from general to specialized. To learn more about our customizable services and your costs, contact us today.