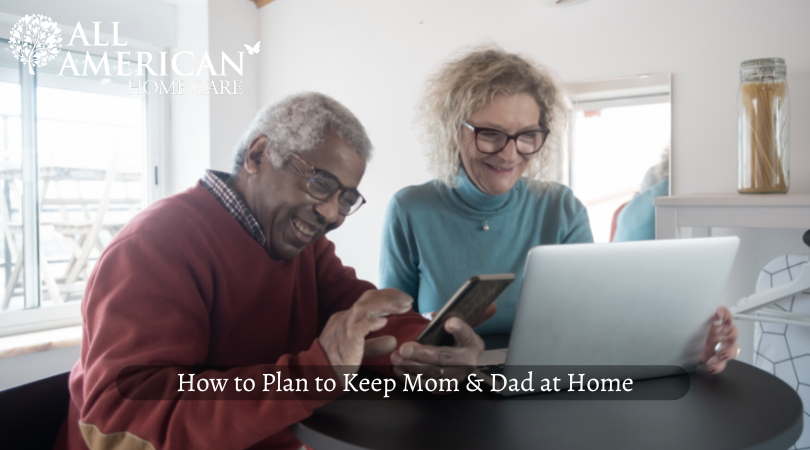 How to Plan to Keep Mom and Dad at Home
December 12 2022
7 Things You Need to Do Now to Plan for Senior Care at Home
More and more seniors are choosing to age in place. Staying at home is much more comforting and beneficial than moving to a retirement home or long-term care facility, and it can actually be more cost effective too! However, as we age, it can become more difficult to safely and easily do daily living tasks, such as shower, get dressed, or make a meal.
So how can you plan to keep your mom and dad at home to live out their golden years? It is something you should begin to think about before assistance in the home or senior care is needed and make a plan that is ready to institute as soon as it's needed. Here is what you need to consider in order to keep your parents at home.
Make the Decisions Together
1 If your parents are able to make sound decisions about their own care, have these conversations and make those decisions together. It is important to include them in developing their home care plan so they feel a sense of control over their own lives and that what they want matters. Discuss their needs, wants, and the options available as well as your own concerns for their health and safety. When you work together to make a plan, you'll find that the plan is more comprehensive and that your parents are more willing to accept help when it is finally needed. You'll also need to discuss costs involved with hiring a care company and whether or not your parents wish to do a power of attorney with you.
Know the Early Warning Signs
2 Know the early warning signs of when extra help is needed in the home to help your parents continue to safely live at home. When you see a few of these signs, you'll want to begin to implement your care plan for your parents. Some of these signs include, but are not limited to:
Difficulty performing daily living activities such as bathing, grooming, toileting, and eating
Noticeable weight loss due to poor diet, difficulty cooking, or shopping for food
Poor personal hygiene
Unkempt hair or a decline in grooming habits
Bruises, wounds, or other marks that could indicate changes in mobility or falls
Loss of interest in hobbies
Difficulty keeping track of time
Mood swings or changes in mood
Increased agitation
Neglecting household responsibilities
Failing to fill prescriptions or take medications
Signs of unsafe driving
Changes in cognition, memory, or judgment
Understand How Much Care Might be Needed
3 We can't fully predict the future, but you can get an idea of how much care your parents might need at home. Here are some things to ask yourself:
Does one of my parents have any serious health conditions that need routine care, such as diabetes or a chronic pain condition?
Does one of my parents already have mobility issues, such as bad joints or arthritis?
Is there a history of early onset dementia in the family?
Does one of my parents already suffer from a mental disorder, such as depression, that could be made worse by feelings of isolation due to a decrease in mobility?
Understanding what is currently affecting your parents and the stages of health they can go through in the future can help you create a plan for their home and/or health care needs; in other words, what type of care your parents will need. For example, if your parent has a chronic condition such as diabetes, it is likely that they would need more than just companion care to start and would instead require home healthcare.

Be Realistic About How Much Care You Can Provide
4 Not every family has someone who can become a family caregiver for a loved one. It's important to be realistic about what your family can provide for your parents whether that is a full-time family caregiver, several family caregivers who can work in shifts, or no family caregiver at all. This will help you and your parents decide how much outside help you need from a home care agency.
Get Organized
5 Get all of your parents financial and medical information organized. It should all be filed away so that if something happens, you know where to find the documents you need. If you and your parents discussed a power of attorney (medical and/or financial), get your documents in order and filed away as well. If your parents want to add you to their bank account, make sure you get that taken care of ahead of time as well.
Modify the Home
6 Make some modifications to the home that allows your parents to live at home safely. Much of this is eliminating fall hazards, but there are a few other things you'll need to do to make living at home safer for your parents.
Tack down or remove area rugs
Make clear, direct pathways around the home to make it easier to move about the house
Install grab bars in the bathroom
Invest in a raised toilet seat
Install night lights or smart lights in the bathroom and bedroom
Invest in an adjustable bed, if possible
Invest in a wearable safety device (a button they can push if they fall, or a smartwatch that can detect a fall or that has GPS to locate a parent with cognitive issues that has wandered off)
To learn more about making your parents' home safer, check out our article on senior safety inside the home.

Research Care Providers
7 Finally, research local private home care and home healthcare agencies. There's a variety of options and companies out there so it's a good idea to have your care agency picked out ahead of time. Nothing is worse than scrambling to find care in an emergency. You never know when a parent may fall seriously ill and wind up needing 24/7 care. For help on how to choose the right agency for you, check out our comprehensive guide on finding the right care provider for your family and our article on what to look for in a home healthcare company.
If your parents are in Pennsylvania, All American would love to help care for them! Learn why we are the trusted agency on aging in Pennsylvania or contact us today to learn more about our senior care and home healthcare services.