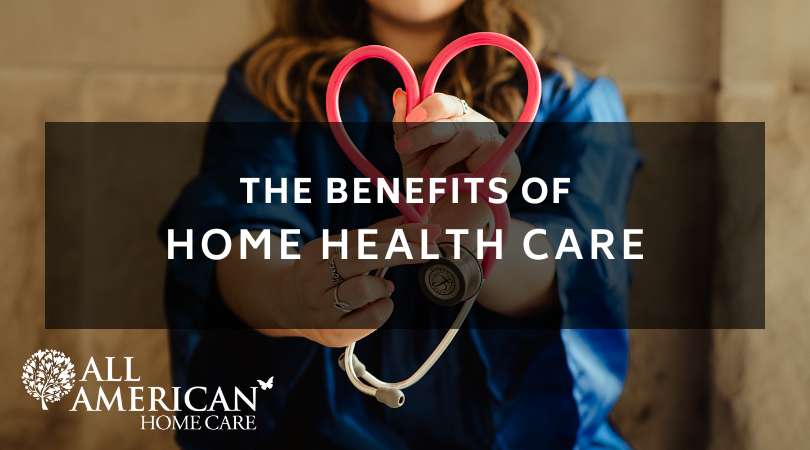 The Benefits of Home Health Care
September 20 2022
And Why Home Care Promotes Better Healing and Health Outcomes
After an injury or new health diagnosis, it was a common occurrence in the past to have an extended stay in the hospital or stay at a long-term care facility.
But wouldn't you rather stay at home if you could? These days, the overwhelming majority of people prefer to receive health care in the comfort of their own home, and for good reason too!
Not only is home a place of support and comfort, but it can actually promote better healing!
Here are eight benefits of home health care and how it promotes better healing and health outcomes for patients.
Faster Release from the Hospital
1 Because you get the same level of care as you would in a facility, patients with home health care lined up can see a faster release from the hospital. Home health care not only provides many different professionals on your care team, such as doctors, nurses, health aides, and therapists, but these agencies often have many of the same technology and capabilities as a facility. Many home health agencies even have portable X-ray machines. So not only are you able to receive the same level of care, but you can do it even sooner from the comfort of your own home!
Greater Independence
2 Home health care can mean greater independence for patients, specifically for seniors or those with disabilities. Home health care provides support for you to do everyday tasks, such as bathing, dressing, meal preparation, and other tasks. It also means that you get to have care done on your schedule and choose your leisure activities all in the comfort and convenience of your own home.
Safety and Prevention
3 Home health care workers are there to provide safety, whether that is through help ambulating or removing unsafe obstacles in the home (such as a rug that can be tripped over), or even helping manage medications to avoid harmful drug interactions. This increased level of safety is provided in the comfort and convenience of your own home. Creating a safer environment along with regular monitoring of your health can help prevent avoidable and unnecessary costly trips to the hospital.
Faster Recovery + Saves Money
4The study found that home health care not only provided better health outcomes, but that it also incurred lower costs for the patient. Why? Comfort level plays a big role in how fast we heal and being at home is more comfortable than a facility. As previously discussed, home health care provides a safe environment focused on prevention and regular monitoring that allows the care team to see issues coming down the road before they become a costly health crisis.
More Personalized Care
5 Because your care team is visiting you at home, they are solely focused on you and your care during their time with you. This means you receive one-on-one attention and personalized care that is tailored to your exact needs. This also adds to the cost-effectiveness of the care you are receiving.
Improves Morale and Emotional Health
6 Patients who receive care in the comfort of their own home often have a greater sense of well-being and overall morale. This is because you are in comfortable and familiar surroundings. Receiving care at home also means that your friends and family are able to visit when it is convenient for them, meaning you get to see them more often, which can go a long way in combating isolation and depression!
For those suffering from memory issues, such as dementia or a traumatic brain injury (TBI), being in familiar surroundings not only is comforting and less stressful, but can improve compliance and help patients adhere to care plans, leading to better health outcomes.
Companionship Care
7 Many home health care agencies also offer companion care to those who need help but do not require around-the-clock medical attention. Companion care is any care that is not health related. In other words, these professionals not only provide companionship, but they also assist with other daily living tasks such as helping with chores, bathing, dressing, social activities, running errands, and more.
Relief for Family Caregivers
8 Finally, home health care offers relief for family caregivers through respite care. This can help family caregivers take care of their own needs, including going to doctor appointments or social engagements. It is important that we all take time to recharge and refresh. If we don't, we become burnt out and that can lead to fatigue, depression, and even making poor choices that could, in the worst case, lead to an accident involving the person we are caring for. Respite care actually allows family caregivers to provide better care for their loved one!
Hire a Caring and Professional Home Health Agency
All American Home Care is dedicated to providing the highest quality in home health and personal care services for our community. We care for each individual's needs carefully and compassionately. Our highly trained professionals are ready to assist you and provide you with a higher quality of life in the comfort of your own home. Contact us today to learn more about how we can help you!