There are alternatives to putting your loved one in a nursing home in America. Whether your loved one is in need of long-term nursing home care or palliative nursing care, it can be done at home where the patient is often most comfortable.
Long-Term Nursing Home Care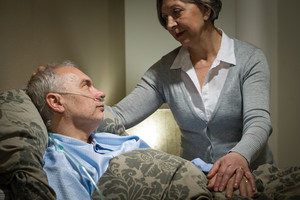 Long-term nursing home care is a range of services that support personal care needs. It includes health care administered in the comfort of your own home as well as help with daily living activities such as personal hygiene, dressing and eating. Just as in a nursing home in America, your loved one can receive these same services at home.  It is important to note that Medicare doesn't cover most long-term nursing care. Medicare was designed for those who need skilled nursing care for a limited time. For example, a person recovering from a hip injury will likely be covered while a person suffering from Alzheimer's will likely not be covered. However, Medicaid may pay for some costs of nursing care whether it is in a facility or at home. The amount varies state-by-state. For veterans, there are also some options through the VA for those who meet the qualifications, including VA approved home care agencies for those who are homebound and do not live close to a VA nursing home.
Home Health Care Nurse Duties
The role of the nurse in at home long-term nursing care is medical. Home health care nurse duties include monitoring the health of your loved one, including chronic illness, and work with the doctor to provide treatment. They will also make sure that you understand the treatment plan, including medications. If you are also a family caregiver, they will help you understand how to do certain things, such as administering medications, treating wounds and learning about dietary needs, among other things. If you are unable to be a family caregiver, or unable to do it full-time, you can purchase a plan in which aides help with daily personal care needs, such as bathing, getting dressed, meal preparation, eating and companionship. Combined, these always home nursing services allow for your loved one to receive medical attention and personal daily care in the comfort of their own home.
What is Palliative Nursing Care?
There are some misconceptions about what is palliative nursing care. Many lump it in with hospice care, however, there is a key difference. Hospice care if for patients with 6 months or less to live. Palliative nursing care at home addresses symptoms, relieves pain and maximized the quality of life for people living with a serious illness, providing another layer of help for those who may be receiving curative treatments such as radiation and chemotherapy. The goal is to enhance the quality of life for the patient and their family while receiving curative treatment.
Find a Quality Healthcare Nursing Agency
Whether you are searching for nursing agencies in Allentown, PA or a nursing home in Philadelphia, it can be a daunting task to find and hire a quality healthcare nursing agency. However, with some research, it is possible to find a reputable always home nursing services provider. Our blog provides some great information on how to select a quality healthcare nursing agency.

Expert Caregivers
Our certified, experienced caregivers help our patients enjoy a higher quality of life at home.
Always Available
Home care for your loved ones is available around the clock, even nights and weekends.
Compassionate Care
Every member of the All American Home Care team approaches patient care in the same way we would with our own family.
Community Involvement
All American Home Care firmly believes that few things are more important than community, and we show our appreciation by always striving to give back.
All American Nursing
All American Nursing is proud to offer an alternative to placing your loved one in a nursing home in Philadelphia.  All American home nursing offers quality long-term and palliative nursing care at home. We provide the same services as a nursing home in Philadelphia, or any nursing home in America, but in the comfort of your own home instead. Our highly trained All American home nursing staff includes physicians, RNs, speech therapists, physical therapists, occupational therapists, home health aides and more! All American Nursing home care provides a variety of different services, including:
Patient and family caregiver education
Wound care
Physical, occupational and speech therapy
Intravenous or nutrition therap
Injections
Monitoring serious illness and unstable health status
Administering medications
Mobility assistance and transportation
Assistance with daily living activities such as hygiene, food preparation, dressing and more.
All American home nursing can help you maintain your independence with long-term nursing care all while living in your own home and maintaining your lifestyle.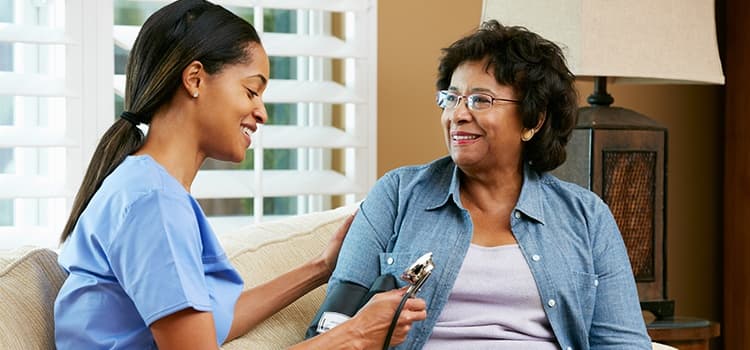 All American Nursing Palliative Care
All American Nursing home care also encompases palliatvie and hospice care. All American Nursing home care for hospice provides both physical and emotional, promoting comfort, for those who have reached the end of their life. All American nursing palliative care offers specialized medical treatment that focuses on relief from serious and terminal illness. The advantages of All American home nursing can't be understated, whether you are choosing long-term care, palliative care or hospice care. Most people would rather be at home when needing medical and personal care or while receiving end-of-life care. The comforts of home ensure less stress. This can encourage faster healing, promote smooth long-term care or enable a more peaceful end to life. All American Nursing home care can provide that much needed care in the tranquility of your own home. All American Home nursing is considered one of the highest quality nursing agencies in Allentown, PA, Philadelphia, PA and Feasterville, PA. We hope that you choose All American Nursing for your long-term or palliative care needs. All American Nursing home care can provide the comfort, independence and care you need.
Nursing Care Agency in Philadelphia PA
All American Home Care »
Frequently Asked Questions
📢 What care services does All American Home Care offer?
All American Home Care offers services in home care waiver programs, home health care, and hospice & palliative care. Please see our 'Services' page for more information about the support options that we offer.
📍 Where is All American Home Care located?
All American Home Care has three offices in Pennsylvania: in Feasterville, Philadelphia, and Allentown. We serve each of these regions and the surrounding communities.
❤ Can I become a caregiver with All American Home Care?
If you are a qualified caregiver in one of the services areas that we offer, please visit our 'Careers' page to see the latest opportunities in our rapidly growing organization.
⭐ What makes All American Home Care different from other home care agencies?
At All American Home Care, we are dedicated to providing the highest quality in home health and personal care services. Every member of our compassionate, knowledgeable staff understands that anything less than our best care is not good enough. If you'd like to learn more about All American Home Care and how we can help you or your loved one, give us a call to schedule a consultation.