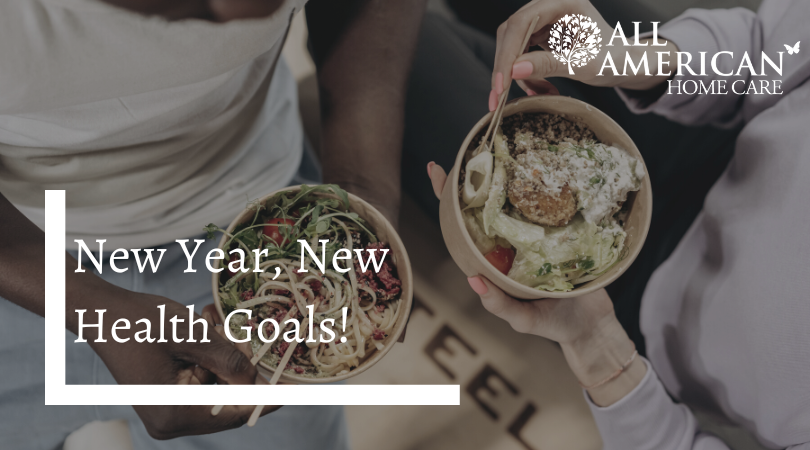 New Year, New Health Goals!
December 12 2022
New Year's Resolutions for Caregivers
The end of the year is quickly approaching and many of us begin to think about the resolutions we want to make for the new year. Often, those resolutions are health related, and we think that can be wonderful!
Change is hard and can be especially difficult when you are a caregiver and set your own needs aside to assist another person with their needs. That is why making small changes can be easier to turn into healthy habits that meet or exceed your New Year's resolutions.
Remember, when you are healthy and well, you can provide better care to your patients or loved one! To help improve your own health, here are 5 simple New Year's resolutions you should consider making.
Take Time for Self Care
1 Self care can become an important ritual for your physical and mental health. Self care doesn't have to be an extensive routine. Here, the more simple the better. But it can be easy to push self care aside for your other duties as a caregiver. To make sure that self care becomes a habit, schedule it weekly or monthly into your routine.
Here are some ideas for self care:
Get a massage once a month
Relax while doing a face mask once a week
Take an hour each week to work on a hobby, such as painting, gardening, woodworking, or knitting
Take a hot bath once a week
Go to the movies or dinner with friends once a month
Write in a journal daily or weekly
Get Organized and Reduce Stress
2 Prolonged stress can lead to mental health disorders such as anxiety and depression. But it can also lead to long-term physical health effects such as weight gain, sleep problems, heart disease, headaches, memory and concentration issues, and pain, just to name a few. To reduce stress, get yourself organized!
Here are some ideas to help you get better organized and reduce stress:
Keep a day planner or calendar and mark important dates
Organize your list of daily tasks by order of importance
For family caregivers, organize all of your loved one's important documents, such as medical history notes, list of medications, power of attorney, etc.
For professional caregivers, organize your medical supplies in your car so that you can easily find what you need when you need it
Eat Healthier
3 Eating healthy as a caregiver can be hard. You may eat at odd hours and get short breaks or none at all. When family caregivers may be on a different diet than their loved one, it can be difficult to find the motivation to prepare a second meal, but making some small changes can help you eat healthier.
Here are some ideas to help you eat healthier as a caregiver:
Keep healthy snacks on hand, such as granola bars, nuts, or fruit to snack on when you can
Try to stick to a meal schedule as much as possible, even if that means eating 6 small meals a day instead of 3 large meals
Use a grocery delivery service to keep fresh produce and other healthy foods on hand
Use a meal delivery kit to make it easier to cook healthy meals
Drink More Water
4 When you are tired or have a headache, it may seem like a good idea to reach for a coffee or a soda with caffeine. While it's okay to drink coffee and soda in moderation, don't forget to drink plenty of water.
Drinking water prevents dehydration, a condition that can lead to unclear thinking, mood changes, kidney stones, and more. Drinking water can also help your body stay regulated at a normal temperature, lubricates and cushions your joints, protects your spinal cord, and helps your body rid itself of wastes.
Here are tips to help you drink more water:
Carry a water bottle with you and refill it throughout the day
Add ice to your water and use an insulated water bottle for cold water all day–even if you need a refill!
Add a wedge of lime or lemon to your water to improve the taste
There are some other beverages that can be a great alternative to sugary drinks that contain plenty of water:
Caffeine free plain coffee
Tea with lemon
Sparkling water, seltzers of low calorie flavored waters
Make an Appointment
5 Finally, take care of your health by making an appointment with your healthcare provider! If you are a family caregiver, you can ensure your loved one is in good hands by asking a neighbor or other family member to care for your loved one while you are at your appointment, or by utilizing respite care if your loved one is in home healthcare.
Here are some of the appointments you might consider making:
Annual health exam with your general practitioner
Annual appointment with a specialist, if needed
Annual women's pelvic exam and/or breast exam
Annual men's prostate exam
Annual dental cleaning
Final Thoughts
Caring for yourself is caring for others! When we are healthy, we not only have the strength to transfer a patient or loved one, but we can also think clearly, helping avoid unnecessary health crises for the person you are caring for.
Remember, it is all about making one or two small changes because these are easier to turn into healthy habits. So select one or two of these goals to make for your New Year's resolution. When you have made that resolution into a healthy habit, try out another one of these goals so that you can be the best version of yourself and help care for others!