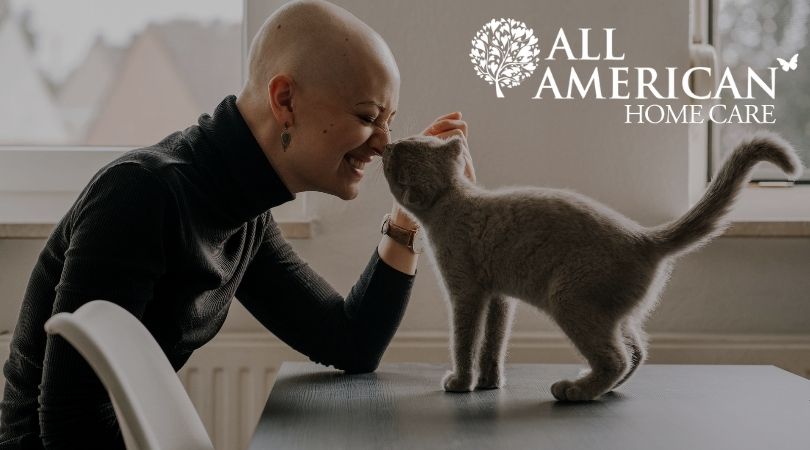 5 Tips for Working with Cancer Patients
April 06 2021
These Tips will Help You Care for the Physical and Mental Health of Your Cancer Patients
Cancer takes an emotional and physical toll, not just on the patient, but on everyone around the patient. It is a difficult diagnosis to deal with no matter the age of the patient, the stage of the cancer or the type of cancer. It is a life-changing diagnosis, to say the least.
Working with cancer patients, while tough, can be some of the most rewarding work that you do. Not only must you care for the patient, but you also need to help their family. These five tips will help you give your cancer patients and their families the best care possible.
Personal Hygiene and Appearance
1 Emotional health is just as important as physical health, so it is important for a person battling cancer to be able to feel good about themselves. Also be sure to help them keep up with personal hygiene and to help them feel more comfortable. Here are some ways you can help them keep up with their hygiene and feel good about themselves.
Bath or shower water should be kept at a comfortable temperature and be gentle when you wash them. Do not rub, but instead pat them dry.
Dry skin can be a side effect of treatment so be sure to have plenty of water-based lotion on hand for after bathing and throughout the day.
If treatment causes their hair to fall out, their scalp may be sensitive so use a mild shampoo and soft hairbrush.
Keep their favorite grooming supplies handy. If your loved one enjoys makeup, encourage him or her to wear it or to fix their hair, even if they are staying in bed.
For safety, use an electric shaver and avoid aftershave with alcohol, which can irritate the skin.
Be sure the patient wears a sunscreen and hat when outside to avoid sunburns.
Soft fabrics (like cotton) are a must for cancer patients. If they have lost weight, encourage their family caregiver to buy them clothes that fit so the patient can feel good about how they look.
Oral Health
2 Oral health is key to full-body health. This means that the patient needs to keep up with brushing, flossing and using mouthwash. However, some changes may need to be made.
If the patient is receiving chemotherapy, make sure they brush their teeth after eating to avoid infection.
The patient should have a soft-bristled toothbrush, waxed floss and fluoride toothpaste without whitening or tartar control. If gums bleed when flossing and the patient's platelet count is low, speak with their doctor about flossing.
Alcohol in store-bought mouthwash can irritate the mouth of cancer patients. Help them make a homemade mouthwash by mixing ½ teaspoon baking soda with 1 cup of water to use after brushing.
Stay Active
3 While it may be difficult, it is important for cancer patients to stay active and to enjoy the activities they love, if possible. This can help both their physical and emotional health. Consider helping the family caregiver set a daily routine that balances rest and activities.
Encourage the patient to take walks when possible.
Encourage the patient to follow doctor-approved exercises.
Help your cancer patients stay social by planning visits or outing with friends. Keeping in touch with friends can help us feel good and it's also a great support system.
Nutrition
4 When a cancer patient has the appetite, make sure they are eating a nutritious diet. Ensure that they have water nearby or other easy to eat foods. Also ensure that food is properly prepared before consumption.
The medical team will have set guidelines for food during treatment, so be sure those guidelines are being followed. Share these guidelines with the family caregiver.
Appetite is usually better in the mornings, so serve larger meals then.
Rather than 3 larger meals a day, try 5 or 6 smaller meals throughout the day.
Have liquid meal replacements on hand for when the patient does not wish to eat.
Handy foods to have include soft and cold foods like protein shakes, applesauce, pudding and popsicles.
Liquids are extremely important. Besides water, having sports drinks, clear soups, juices and caffeine-free teas are all good options. A full bottle of water should always be nearby for the patient to stay hydrated.
All dairy and juices must be pasteurized.
Fruits and veggies must be thoroughly washed before consumption.
To help the patient keep their protein levels up, consider options such as sprinkling cheese on veggies and eggs, use milk instead of water in soup bases or oatmeal, or add nonfat instant dry milk to drinks.
Self Care
5 Self care is important for the patient, family caregivers and professional caregivers alike! For caregivers, it is important to remember that you can't take care of the patient well if you don't first care for yourself. And remember, it's okay to not be okay.
For Patients:
For mental and emotional health, guide the patient through deep breathing exercises and relaxation techniques. Or play their favorite music to help them relax.
Encourage them to do things they love, such as painting, knitting, gardening or reading a book when they can.
Have a movie or TV show marathon for bed or couch days.
Reach out to a trusted friend, relative or caregiver when you need to talk. Or write your feelings down in a journal. It's important for our emotional health to process our feelings.
For Caregivers:
Practice deep breathing and other relaxation techniques or enjoy a quiet moment to yourself.
Do something relaxing or that you love. Take a hot bath, read a chapter in a book with a hot cup of tea, do some crafting or gardening–whatever it is you love!
Write down your feelings in a journal to help you process your thoughts.
Ask for help when you need it. There is no shame in asking for help in caring for the patient or talking to a counselor or therapist when you need it. Consider having a support system of fellow caregivers. For professional caregivers, rely on your team and coworkers for support. For family caregivers, join a support group for family caregivers; these people understand more than anyone else what you are going through and can be a great source of comfort and information.
Family caregivers should use respite care when needed. Don't feel guilty about it; your loved one will be in good hands with the professional caregiver and your loved one will understand.
Conclusion
Caring for cancer patients can be tough some days, but it is truly rewarding work knowing that you are helping someone during one of the most difficult times in their life. Ensuring their comfort and health is key. By following these tips, you will help your cancer patients feel better emotionally and physically.