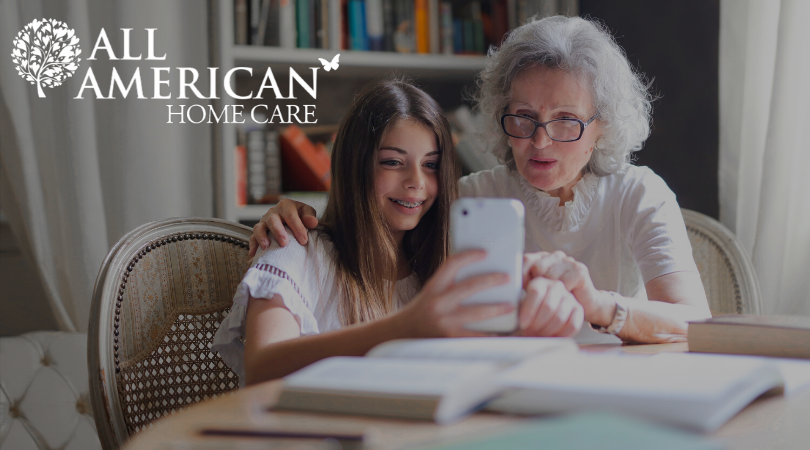 Companion Care for Seniors
September 13 2020
Elderly Companion Care
When searching for home care services online, people often come across the offers of companionship. But what is companion care? Companionship for seniors is typically not an option for caring for a seriously ill person, but rather for an older adult who is lonely, lives far from family, and needs assistance with daily tasks. However, the primary duty of a companion is to provide communication and psychological support. Let's take a closer look at the companion care definition.
Who Needs Companionship Services for the Elderly?
A companion caregiver is great for seniors living separately from close relatives. Even when seniors are in good physical shape, they still need some attention and help with house chores. If, due to life circumstances, you cannot pay due attention to an elderly relative, consider hiring a companion caretaker.
The companion's duties include performing a wide range of tasks to create a comfortable living environment for the person, such as:
Buying groceries
Food preparation
Keeping the house clean
Doing the laundry
Changing clothes for the senior
Assistance with hygienic procedures
Monitoring medications intake
Calling the emergency number if needed
Besides, companion aide duties typically include accompanying the senior person during walks, hospital visits, shopping, social and cultural events.
Medical care is not on top of the list of an elderly companion job description. However, a personal companion should be able to provide urgent assistance in case of an emergency or exacerbation of chronic diseases.
Perhaps the most critical function of a senior person's companion is psychological assistance. For any person, and even more so at an older age, attention, and communication are essential. If you cannot provide those, it is the companion caregiver who will communicate with your elderly relative, read books and newspapers aloud, discuss a variety of issues that interest the person, and keep them company in hobbies.
Main Principles of Companionship for Seniors
The companion's goal is to create a favorable climate in the house and inspire the idea that life does not end with the advent of old age.
When choosing a perfect companion for your relatives, you should pay attention to many factors. Here are some of them.
Ability to Connect
1 A great home health companion is able to understand an older adult, accept the seniors' character peculiarities, create a healing atmosphere every day, and continuously look for opportunities to improve the person's mood.
Fast Learning
2 On duty, the companion often has to play board games: cards, dominoes, checkers, chess, backgammon, monopoly. It is great if the potential caretaker is familiar with at least some of them.
Otherwise, the perfect companion candidate should be a fast learner able to adjust to the person's needs and interests. Flexibility and willingness to learn the person's favorite game is also an advantage. Besides, in some cases, teaching someone the rules of a game can be a rewarding and pleasant experience for a senior.
Sense of Humor
3 The companion caregiver must have a kind sense of humor. Not all older people, of course, love jokes. But being able to tell exciting stories with a grain of fun is always useful in such work.
Encouragement and Empathy
4 People involved in senior adult companion care must be able to compliment and know how to support. It is crucial to avoid ambiguous phrases and comments, as they can be offensive and upset a senior person. It is also an extremely useful quality to be a good listener, demonstrating patience and empathy for the older adult.
Tact in Communication
5 A qualified caregiver knows how to speak to the ward properly. In the zone of comfortable communication, phrases based on the principle "Yes, but …" are welcome. Such structures allow to show the senior person consent and, at the same time, offer a different opinion. This approach is highly effective for maintaining emotionally safe communication.
For example, the patient may regularly express sadness or complain about negative news on TV. There is nothing more convenient but to use the phrase: "Yes, unfortunately, every day, something unpleasant happens, but how about watching some comedy instead?"
Contact with Relatives
6Connecting with the senior person is crucial for the companion. However, the relatives of the ward also need to develop trust with the caretaker. Make sure that the companion of your loved one shares impressions about the ward's health state, discusses important issues with you in a polite manner, avoiding radical advice.
How to Ensure High Quality of Elderly Companion Services
A common misconception when hiring a companion for an older person is that the caretaker will intuitively know what the ward prefers. Though it may be true in some rare cases, initial guidance from the relatives is a significant advantage for establishing a great connection between the caretaker and the senior person.
Here are a few tips on what you can do to foster communication between the ward and the companion:
Ensure that your relative is ready for companion care services and establishing a friendly connection before hiring a caretaker.
Inform the companion about the ward's spheres of interest and suggest exciting topics.
Discuss your relative's regular schedule with the caretaker. This way, the companion will be able to surround the ward with comfort.
Apart from listing the things the ward likes, remember to mention what the companion should not do. For instance, some people get annoyed when hearing the radio or specific songs, while others enjoy it.
Share your expectations with the companion. For example, if you want the caretaker to give you a report every second day, discuss it in advance.
If you feel the need, never hesitate to contact the caretaker with questions.
You can agree on having a trial day with the potential companion to ensure that you are ready to trust the caretaker with care for your relative.
A companion nurse helps an older person open up by developing a connection based on trust and care. Positive contact between a companion and a senior person is known to improve the wards' energy levels. Older adults begin to engage in activities, enjoy communication, and experience better mental and emotional states. But where does one find reliable personal companionship?
Where to Find Qualified Senior Companion Care
All American Home Care was established in 2011 and has been delivering outstanding care for patients of various ages ever since.
Whether your loved one needs medical home care or companionship, we can provide this service to you, and select a nurse who will fit all your requirements. All members of our team are professionals with outstanding personal qualities. Not only are they able to provide medical care, but also to support the ward psychologically. Our mission is to provide the best possible service to people at any point in life in the comfort of their homes, and we make our top priority to follow it.
Check out the "Services" section for detailed information on all types of home care that we provide. You can also request free information via call, email, or contact form on our website, and our specialists will be in touch promptly to discuss your case.
Discover Our Services: caregiver facility jobs | home care for cancer patients | medical care for elderly | home health aid education | 247 care at home | in home nursing | pennsylvania corporation for aging.