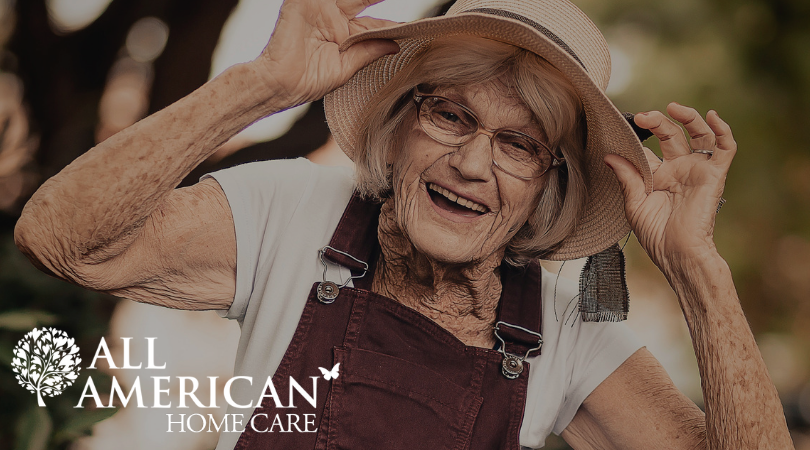 Best Gifts for Dementia Patients
December 09 2019
Best Gifts for Dementia Patients
It is always a challenge to choose the perfect gift for men with dementiaon a special day. We all want our beloved ones to be pleased and happy, and we are trying to do our best to select the perfect gift. Of course, when searching for things to buy as gifts for dementia patients, we should take into consideration the following criteria:
His or her personal likes and dislikes
Age
Sex
The stage of the disease
Besides, dementia gifts should also be useful in order to help dementia patients to maintain their independence. With All American Home Care, dementia gift ideas will not cause any difficulties anymore!
Getting gifts for people with dementia make sure they are beautiful and well packaged. Remember that unwrapping a present is one of the most important parts of any holiday. This process draws dementia patients' attention to the fact that this day means something special both for them and their families.
How to Turn a Regular Present into a Hit? Cheer Up Your Beloved Ones Suffering from Dementia!
More than that, the best gifts for dementia sufferers should be fun. It might be a beautiful toy or a game. The best examples to point out are:
A fluffy toy
Toy constructor
Puzzles
Painting sets
It is always better to buy games which can be enjoyed by several players. This is because games that involve a group of people help to elicit old memories and to create new ones. In particular, it refers to gifts for dementia seniors.
Conversations, discussions of common memories, and jokes are more likely to improve the general state and spirits of older persons. Although, it should be noted that it is necessary to take into account the stage of the illness and the patient's general state. Remembering all of these facts, you can decide whether a game can consist of small details or not, if it can make noises or if it's best that it's quiet. You can also get a present based on art activities.
Drawing with watercolor is rather relaxing while drawing with a pencil can help to develop concentration and a longer attention span.  Still, be mindful of the fact that none of these activities should provoke stressful situations or outbursts of anger and sadness. Once feeling down, a patient is very likely to go through a wide range of troubling emotions, as they try to overcome what has become a negative experience. Presents must evoke only positive vibes. That is what presents are for.
Choose the Best Present for the Person You Love
Speaking of other gift ideas for someone with dementia, it should be definitely noted that gifts for dementia patients should facilitate their daily routine so that they can feel more confident and independent. There are a few options for this case:
A reminder day clock
For people with dementia, it is quite challenging to stay oriented and focused. In this case, a reminder day clock will become the perfect way out. As a rule, such clocks are designed to be clear and easy to see.
Furthermore, they help to organize their personal schedules to keep up with meetings and deadlines. There are also various instruments that can provide comfort and independence. Thus, people with dementia remember that they still can be the owners of their private lives. The longer a person with dementia keeps this confidence, the better he or she feels. The most depressing feeling is to understand that you cannot control the simplest things in your life. As we have already mentioned, the gifts for people with dementia are always about avoiding stressful situations.
Radio or music players
The list of the best gifts for dementia patients includes modern radio or music players. As we all know, music therapy is always inspiring, and there is no exception for someone with dementia. On the contrary, listening to music helps to unlock forgotten emotions or memories. But do not forget that any tool you buy for your beloved person with dementia should have large and bright buttons and be easy to use.
Audiobooks
Complicated devices might only confuse a patient, and presents must not cause negative reactions. Audiobooks can also be related to this category. If a person with dementia used to love reading, he or she might miss the feeling of discovering new and exciting stories. Reading books is difficult and sometimes even impossible for such people, and audiobooks might become a way to fix the situation. In addition to that, audiobooks improve attention and concentration levels. In fact, it is the perfect mix of joy and utility.
Clothes and other home stuff
It is always a nice idea to get clothes, shoes, or blankets for people with dementia. On the whole, all things which help create personal comfort for the person are usually a good hit. However, it is highly recommended to add some special details to the present. For instance, you can get a blanket with a family picture. Such small tricks increase the possibility of memory enlightenments and make a regular present more special. On top of that, these gifts develop sensitivity, which also stimulates inner peace and stability.
Getting the Perfect Gift Does Not Cause Difficulties Anymore
As we can see, there are various gift ideas for dementia patients, which are both fun and helpful. Another significant aspect of arranging a special day for someone with dementia is your reaction. First of all, you should understand that even good choices might lose. Careful search improves your chances to succeed, but you cannot be 100% sure.
If you do not see your favorite person pleased and happy, do not get angry or upset. Just make some conclusions and give it another try! Your expectations might not be justified; however, it is not a reason to give up! Remember that even fruitless efforts can eventually yield positive results, and it is never late to win. Especially when we are referring to people you appreciate and care for.
In spite of all the difficulties one may face when looking for the perfect gift for a person with dementia, the pleasure you feel when someone you love is happy is absolutely worth it. Sweep aside all of your doubts and consult All American Home Care! We know how to ease the daily routine for dementia patients and how to maintain holidays and special days in their lives. It is obvious that there is no need for them to stop enjoying their special occasions! There is always a place for joy. There is always a reason to be happy.