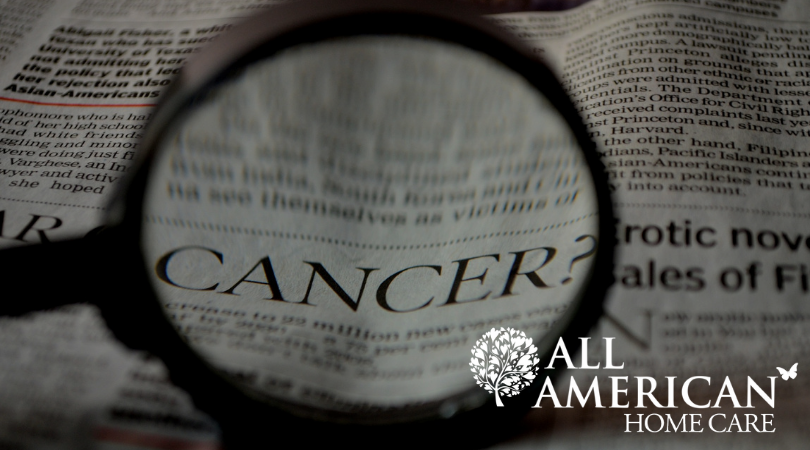 5 Tips for Caring for Patients with Cancer
May 22 2019
Tips for Patient and Caregiver Health
Cancer is life changing for the patient and their family. Cancer can be a difficult diagnosis to deal with no matter the age of the person, the stage of the cancer or the type of cancer. It takes both an emotional and physical toll on all involved.
Caring for a patient with cancer, whether you are a nurse, home health aide or family caregiver, can be a rewarding, but tough job. Reliable and good caregiver support is crucial to the emotional and physical well being of the cancer patient.
However it is also important that as a caregiver, you take care of yourself as well. You cannot take care of others if you don't first take care of yourself. These tips will keep you feeling great and help you better care for your patient or loved one with cancer.
Personal Hygiene
It is important that we not only help cancer patients keep up with personal hygiene, but that we also make them feel comfortable as well as good about themselves.
When bathing, keep the temperature of the water comfortable. Be gentle when you wash and be sure to pat dry—don't rub.
Dry skin can be a treatment side effect so smooth on a water-based cream after bathing. Be sure to keep their favorite lotion handy for reapplication throughout the day.
Remember to let your patient or loved one do as much as possible on their own when it comes to bathing, but help with the hard-to-reach areas.
If treatment causes their hair to fall out, the scalp may be sensitive so use a mild shampoo and soft hairbrush.
Keep the patient or your loved one comfortable with soft fabrics such as cotton, especially if their skin is dry or sore. If they have lost weight, buy smaller sizes or alter their clothing so they feel good about how they look—emotional health is just as important as physical health.
Keep favorite grooming supplies handy. If your loved one enjoys makeup, encourage him or her to wear it or fix their hair, even if they are staying in bed. Again, this can help with a patient's emotional health.
For safety, use an electric shaver. Avoid aftershaves with alcohol, which can irritate the skin.
Make sure the patient or your loved one wears sunscreen and a hat when outside.
Teeth and Gums
Mouth health is important to full-body health. The patient needs to keep up on brushing, flossing and using mouthwash, though some changes may need to be made.
If the patient or your loved one is receiving chemotherapy, make sure they brush their teeth after eating to avoid infection.
Offer a soft-bristle toothbrush, waxed dental floss and fluoride toothpaste without whitening or tartar control. If gums bleed when flossing and the patient's platelet count is low, speak with their doctor about flossing.
Store-bought mouthwash often has alcohol and other chemicals that may irritate the mouth. Make a homemade mouthwash by mixing ½ teaspoon of baking soda with 1 cup of water to use after brushing.
Activities
Encourage the patient or loved one to remain active when feeling well and to focus on their emotional and mental health as well.
Take walks together when possible. It's good for sleep, mood and energy.
When in bed for the day, help your loved one with doctor-approved exercises.
Mental and emotional health is also important so encourage the use of deep breathing exercises and relaxation techniques. Play their favorite music. These activities will help with mental and emotional health.
As a family caregiver, set a daily routine that balances rest and these activities, planning activities for high-energy times.
Help your loved one stay social and ask if you can plan outings or visits with friends for them. Keeping in touch with friends can help us feel good and it is also a great support system.
Eating
It is important for the patient or your loved one to continue to eat healthy when they have the appetite. Keep water and other easy-to-eat foods nearby. It is also important to properly prepare food before consumption as well.
The medical team should create some guidelines for food during treatment. If you are a professional caregiver, be sure to share this with the family caregiver, answer any questions they may have and assist them if needed and when possible.
Serve larger meals when appetite is best. This is usually in the morning.
Try 5 or 6 smaller meals throughout the day, instead of 3 larger meals.
Keep liquid meal replacements handy for when the patient doesn't want to eat. Other options that are good to have on hand are soft and cold foods, such as protein milkshakes and popsicles. Have foods such as applesauce and pudding nearby.
Offer plenty of liquids, especially on days where appetite is low. Clear soups, juices, sports drinks and weak, caffeine-free tea are good options.
A full water bottle should always be nearby for the patient to stay hydrated throughout the day.
All dairy and juices must be pasteurized. Fruits and veggies must be washed properly before consumption.
Help the patient keep their protein levels up with the foods they eat. Sprinkle cheese on veggies and eggs. Use milk instead of water in soup bases or in hot cereals such as oatmeal. Add nonfat instant dry milk to drinks.
Caregiver Health
As a caregiver, whether by profession or as a family member, it is important to also take care of yourself. If you aren't feeling your best, you won't be able to offer the care and support the patient needs.
If you are a family caregiver, you may feel overwhelmed and that this burden was dumped on you. Having mixed feelings about the role of family caregiver is normal. Decide early on what your limits are and make them known as soon as possible. If you have become a caregiver based on other people's wishes, you need to think about how you feel.
Professional caregivers need to make sure they offer plenty of support and encouragement to family caregivers. You can be one of the best sources of knowledge and comfort during this time.
Family caregivers should seek out a support system or support group. Sharing your feelings in a non-judging environment can be helpful in releasing stress. Support groups are also great for problem solving and encouragement.
Practice self-care. Make sure that as a caregiver, you take some time out of each day to do something for yourself, whether that is knitting, reading a book or watching an episode of a favorite TV show. It is important to continue to do the things that make you happy.
Make sure that you continue to eat a balanced diet and exercise. As caregivers, we often put our own health and needs aside to focus on the patient, but this is counter-intuitive.
Practice relaxation techniques such as deep breathing or meditation as a way to check in with your own mental and emotional help. Seek help from a trained mental health professional when you need it.
Family caregivers should take advantage of respite care. Whether it is to take some of the stress off of you to run errands, or to do something that you love, respite care can help you feel better.
Don't forget to ask for help. You can't do it all and it is important to know your limits. Reach out to others and involve them in your life and that of your loved one. If you are part of a medical team as a professional caregiver, make sure duties are spread evenly and don't be afraid to ask for help when needed.
If you are family caregiver with a job, you are probably feeling overwhelmed and stressed. You might find that people treat you differently because of the time you must spend on caregiving. You may even take unpaid leave or turn down promotions. These issues can affect you both personally as well as financially. Dealing with these and other work-related issues is important to both the employee and employer. Make sure that you speak with your boss or your benefits office. The Family and Medical Leave Act (FMLA) guarantees up to 12 weeks off per year to take care of a seriously ill family member (spouse, parent or child). It only applies to larger companies and not every employee qualifies for it.
As a caregiver for someone with cancer, it can be stressful. But it is also rewarding. As a family caregiver, you may make mistakes and that is okay; just learn from those mistakes. Cherish spending time with your loved one. But most importantly, whether you are a family caregiver or a professional caregiver, make sure that you focus on your health and well being as much as you focus on that of the patient's.