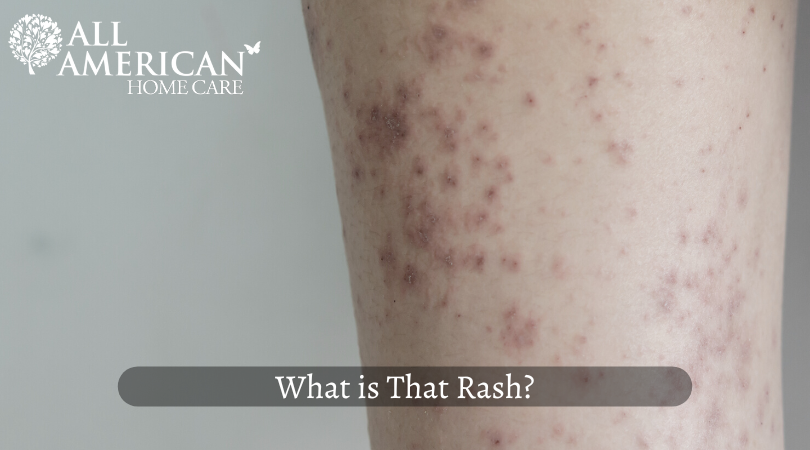 What is that Rash?
March 28 2023
A Look at Different Types of Common Skin Rashes Plus Treatment
Our skin is the body's largest organ. Adults carry up to 8 pounds (3.6 kilograms) and 22 square feet (2 square meters) of skin. Without our skin, we'd literally evaporate. 
Skin is the waterproof, insulating layer that guards the body against infection, extreme temperatures, damaging sunlight, and so much more. The skin also manufactures vitamin D for converting calcium into healthy bones. It's also packed with nerve endings that keep our brains in touch with the world around us. At the same time, our skin allows us free movement, making it a very versatile organ!
But sometimes our skin can get damaged, inflamed, itchy, or infected. Today we'll be looking at some of the most common rashes and their treatments. If you or a loved one has a rash, be sure to contact your doctor to get it looked at and diagnosed. Some of the causes can be life-threatening illness or infection. 
Rosacea
This is a chronic skin disease that goes through cycles of flaring and remission. Relapses can be triggered by certain foods and beverages. There are four subtypes that have a very wide variety of symptoms, but there are common symptoms.
Characteristics:
Facial flushing and redness

Raised red bumps

Skin dryness and sensitivity

On darker skin tones, brown or yellowish-brown bumps may appear and the rash can have a dusky coloration
Treatment of Symptoms:
Avoid spicy foods, alcohol, and menthol

Avoid witch hazel and exfoliating agents

Avoid direct sunlight without sunscreen

Treatments such as laser therapy or microdermabrasion can help in some cases
Eczema
This common skin condition causes itchy, red, dry, and irritated skin. It can affect many different areas of the body. The cause isn't completely understood, however, researchers believe it is triggered by an overactive immune system. It can be triggered by scented products, smoke, fabrics, sweat, stress, and more. 
Characteristics:
Dry, rough, flaky, inflamed, and irritated skin

Affected areas may be red and itchy

Hair loss may occur in the area with the rash

On darker skin tones, it can appear as darker brown or gray patches
Treatment:
A dermatologist, allergist, or primary care doctor can prescribe a medication or therapy
Psoriasis
Psoriasis is a chronic autoimmune condition that causes the rapid buildup of your skin cells on the surface of your skin. Inflammation, redness, and scaliness are fairly common.
Characteristics:
Scaly, silvery, sharply defined skin patches

Skin may crack or bleed

Soreness around patches

Painful swollen joints

Itching and burning sensations around the patches

On darker skin tones, it may look darker than surrounding skin or appear purple

Common locations include scalp, elbows, knees, and lower back

May be itchy or asymptomatic
Treatment:
Topical treatments

Systemic medications

Light therapy
Systemic Lupus
This is an autoimmune disease with a wide variety of symptoms that affect many body systems and organs. 
Characteristics:
Wide array of skin symptoms from rashes to ulcers

Butterfly shaped face rash across cheeks and nose

Can appear bright red on lighter skin tones

On darker skin tones may be red, brown, or darker than natural skin color

Rashes appear to get worse with sun exposure
Treatment:
Anti-inflammatory medications

Steroid creams 

Corticosteroids

Antimalarial drugs

Immunotherapy drugs
Cellulitis
This condition is considered a medical emergency and urgent care is required.
It is caused by bacteria or fungi entering through a break or cut in the skin.
Characteristics:
Pink or red

May appear less obvious on darker skin tones; can appear brown, gray, or purple

Painful, swollen skin without oozing that spreads quickly

Hot and tender to the touch
Treatment:
This condition is considered a medical emergency and urgent care is required.

Antibiotics

Hospital with IV treatment

Surgery
Drug Allergy
This condition is considered a medical emergency and urgent care is required.
Caused by a reaction to taking a drug and can occur days to weeks after.
Characteristics:
Mild to severe itchy, red rash

Blisters, hives

Racing heart

Swelling

Difficulty breathing

Fever, upset stomach

Tiny purple or red dots on the skin
Treatment:
This condition is considered a medical emergency and urgent care is required.

Antihistamines 
Contact Dermatitis
This is an itchy allergy rash that appears hours to days after contact. 
Characteristics:
Itchy, scaly, or raw rash

Has visible borders

On lighter skin tones, it appears red

On darker skin tones, it may be less noticeable

Blisters may develop that weep, ooze, or become crusty

Hives may develop

Sun sensitivity

Cracking skin due to extreme dryness

Swelling
Treatment:
Your doctor may refer you to an allergy specialist or dermatologist to pinpoint the cause

Avoid scratching, and clean skin with mild soap and lukewarm water

For symptoms, use anti-itch treatments such as calamine lotion or antihistamine 

If it worsens, it may require antibiotics
Chickenpox
These itchy red bumps are most common in children. Chickenpox remains contagious until all blisters have crusted over. Those who get it are at risk of getting Shingles later in life. 
Characteristics:
Clusters of itchy, red, fluid-filled blisters

On darker skin tones, can be red, natural skin tone or a little darker; scabs appear gray

Accompanied by a fever, body aches, sore throat, and loss of appetite

Can spread to eyes
Treatment:
There is now a vaccine for chickenpox

Lukewarm baths

Unscented lotion

Wear lightweight, soft clothing

Doctor may prescribe drugs if you are experiencing complications
Shingles
This is most common in adults 50 years of age and older and is caused by the chickenpox virus. 
Characteristics: 
Painful rash that burns, tingles, or itches

Clusters of fluid-filled blisters

May be accompanied by low fever, chills, headache, or fatigue
Treatment:
There is now a vaccine for shingles

Prescription medication
Measles
Measles is a viral infection that starts in the respiratory system.
Characteristics:
Rash may be red, skin-colored, or darker than natural skin color

Spreads from the face down the body 3 to 5 days after the first symptoms appear

Tiny white spots with bluish-white centers on a red background can appear inside the mouth

Accompanied by cough, fever, runny nose, red eyes, sore throat
Treatment:
There is a measles vaccine, given within 72 hours of exposure

Immune proteins

Antibiotics

Acetaminophen or ibuprofen 
Impetigo
This condition is most common in children ages 2 to 5 years old, but can happen at any age. It's an infection that can spread from close contact with an infected person. You can decrease your risk for this infection by practicing good personal hygiene. 
Characteristics:
Often located around the mouth, chin, and nose

An irritating rash and fluid-filled blisters that pop easily and form a honey-colored crust

Can also appear brown, purple, or gray on darker skin tones
Treatment:
Ringworm
This rash isn't caused by a worm, but rather is a fungal infection. This lesion appears in the shape of a ring, which is how it got its name.
Characteristics:
Itchy and scaly circular patches with raised borders

Blisters or pustules can develop

On lighter skin tones, the patches appear pink or red

On darker skin tones, the patches appear gray or brown

Common areas on the body that are affected include the scalp, feet, hands, nails, groin, and beard

Hair loss can also be a symptom
Treatment:
Antifungal creams, ointments, gels, or sprays
Hand, Foot, and Mouth Disease
This rash generally affects children under the age of 5 and is highly contagious.
Characteristics:
Painful, red blisters in the mouth and on the tongue and gums

Flat or raised red spots located on palms of hands and soles of feet

Can also appear on buttocks or genital area

On darker skin tones, it can be skin-colored or grayish-brown

Fever, sore throat, irritability

Decreased appetite

Malaise

Drooling 
Treatment:
Prescription or OTC topical ointments to soothe blisters and rashes

Pain medication (ibuprofen or acetaminophen)

Medicated lozenges or syrups for sore throat
Final Thoughts
Skin rashes can vary widely in appearance depending on the cause and the natural skin tone color. If you see a rash on your skin, the best thing to do is to contact your doctor, as some rashes can be caused by life-threatening infections or illness.