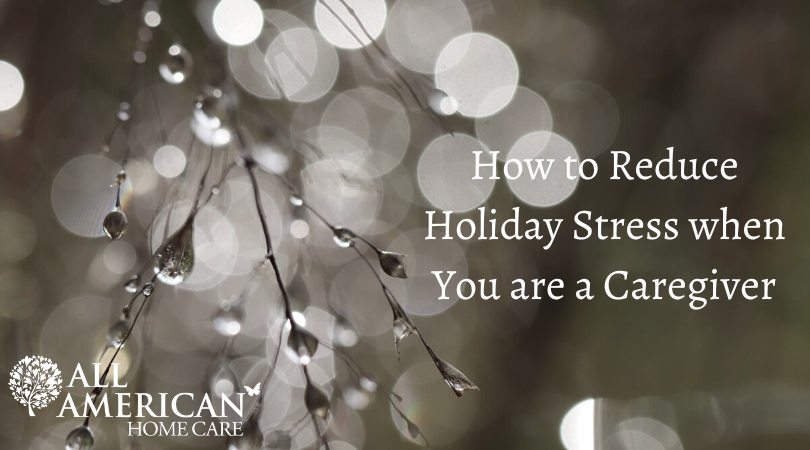 How to Reduce Holiday Stress when You are a Caregiver
December 26 2022
6 Ideas to Help Family Caregivers Reduce Stress During the Holidays
The holiday season has arrived and for many, this season is a fun and cheerful time full of parties, events, and gift giving. But for caregivers, the holidays bring on added stress to this usually joyful season.
Here are some ideas to help reduce added stress that the holiday season can bring for caregivers.
Let Someone Else be the Host
1 Caring for the needs of your loved one is stressful enough; you don't need to add planning and hosting a family holiday party to your to-do list. While it may be tradition for you or the loved one you care for to be the host for a big family gathering, it can add on lots of extra stress. For big family gatherings, suggest that someone else in the family be the host. Holiday traditions are hard to break, but you'll often find that a younger generation is eager to take on the burden and start a new family tradition.
If your loved one is unable to attend a family holiday event elsewhere due to mobility, health, or memory issues, suggest multiple gatherings of smaller groups so that your family can visit with the person you care for during the holidays. Ask family to help with food by preparing a side dish or dessert to bring so you aren't adding on lots of extra duties in the kitchen. Ask for help with cleanup as well.
When family is visiting, ask them to be respectful of what their ill loved one can handle. The holiday season can be exhausting for your loved one and that can in turn lead to more work for you, adding to your caregiver burden. For example, if the person you care for has dementia, keep gatherings small and stimuli to a minimum so they do not become agitated. Also stick to your daily routine as much as possible to keep confusion to a minimum.
Shop Online
2 Going out to the store for groceries or gifts is stressful but can take longer due to the crowds. Skip the crowded stores by shopping online instead. The recent pandemic bore new ways of shopping out of necessity, giving you an abundance of options for how you shop. You can shop online and pick up in store, try Instacart or similar options for grocery delivery, or use basic online shopping and have gifts shipped to your home.
Stay Connected with Your Support Group
3 It's important to watch out for your mental health, especially during this hectic time. Stay connected with other caregivers by chatting with them or going to group meetings. It can be a great way to take a break from your daily duties plus provides you with a support system when you need to vent or seek coping tips.
Practice Self Care
4 Don't skip your self care routine! Adding on extra religious services, holiday gatherings, and holiday shopping can leave anyone frazzled. Take some time to relax and unwind with your self care routine, whether it's a hot bubble bath, painting, knitting, or caring for indoor plants. Practice meditation or do some yoga to manage stress and anxiety. If you have a home healthcare service, be sure to take advantage of respite care.
Take Time to Celebrate the Season!
5 Don't forget to take time to celebrate what makes this season so enjoyable. If you find yourself getting stressed or overwhelmed, focus on what is most meaningful and remind yourself that not everything has to be perfect. If your loved one can't participate in all family traditions, like parties or services, choose those most meaningful to attend. Don't forget to listen to some holiday music or watch holiday movies with your loved one.
Hire a Home Healthcare Service
6 If you find that caring for your loved one is becoming more difficult on your own, but you want to keep them in the comfort of their own home, hire a home healthcare service! Your loved one's team of care providers is there to help you and your loved one. They care for the health and needs of your ill loved one and can reduce your caregiver burden, allowing you to focus more on what matters–spending enjoyable, quality time with your loved one!
If you are in the Philadelphia area, All American would love to assist you and your loved one! We are dedicated to providing the highest quality in-home health and personal care services for our community. We carefully assess each individual's needs and create a unique care plan that meets their specific needs. We are always available and have certified, experienced caregivers who care for your loved one in the same way they would their own family and offer respite care for family caregivers. To learn more about our customizable services, contact us today!