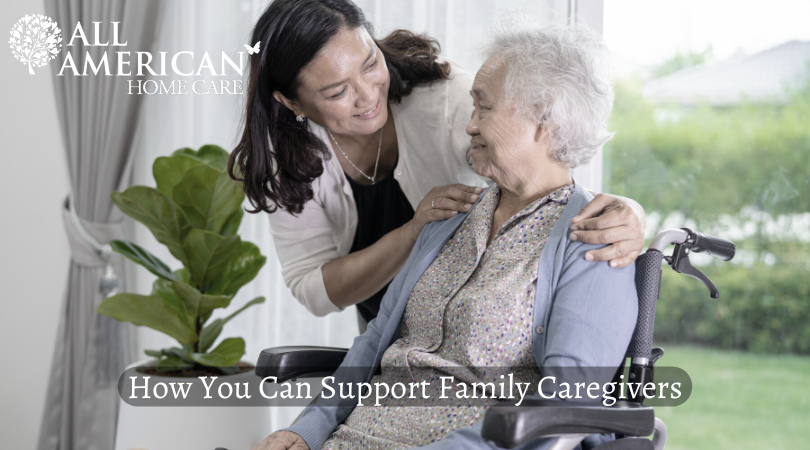 How You Can Support Family Caregivers
November 22 2022
5 Ways You Can be a Better Friend to a Family Caregiver
As the Baby Boomer population continues to age, many of their children will find themselves becoming a family caregiver. As it currently stands, millions of older adults and people with disabilities could not maintain their independence without the help of unpaid family caregivers. According to the Centers for Disease Control (CDC), if purchased, this care would cost nearly $470 billion a year, and is what makes family caregivers such an essential public health service.
What is a Caregiver?
A caregiver is a friend or family member of the patient who provides unpaid, long-term care and assistance to older adults or those with chronic conditions or disabilities. They help with a variety of routine tasks, including bathing, dressing, meals, shopping, and paying the bills. They are often a source of companionship and emotional support for the patient as well.
Here are a few facts about caregivers from the CDC that will give you a better picture of what or who a family caregiver is:
58% of caregivers are women
Nearly one-third of them provide at least 20 hours of care per week
Most caregivers are not formally trained, rather, they learn as they go
One in six non-caregivers expect to become a caregiver within the next two years
The Benefits of Family Caregiving
Patients receive many benefits from being cared for by a family caregiver. These benefits include but are not limited to:
Allowing the patient to retain their quality of life and independence
Allows them to avoid living in a group setting in a long-term care facility
Decreasing the risk of depression
Helps the patient self-manage their chronic conditions better
It can also be beneficial for the person who is providing the care. Many family caregivers will find an increased sense of self-confidence and personal fulfillment as they help their loved one live an independent life. It also allows them the opportunity to develop new skills as they navigate their loved one's care.
The Burden and Stress of Being a Family Caregiver
It is important to note that while many find caregiving for a family or friend rewarding, it can also be demanding and stressful. Being a family caregiver leads to physical, emotional, psychological, and financial strains on the person providing the care. This can lead to both cognitive and behavioral issues in the family caregiver, such as anxiety or depression. Many caregivers also set aside their own personal health as they care for someone else, leading to an increase in risk of chronic health conditions. In fact, a recent study by the National Alliance for Caregiving and AARP found that nearly one in four caregivers said that caregiving has made their own health worse.
Many caregivers will also find that over time, their social circles shrink. Casual friends are usually the first to drift away. This is due to the fact that the caregiver has less time to meet up with friends as they care for their loved one. However, eventually close friends may drift away as well, leaving the caregiver feeling isolated.
Because of these strains, it is important that those who are family or friends of a caregiver support them in any way they can. The problem is, you may not know the best way to support them. To help, here are five ways that you can support the family caregiver in your life.
Listen
1 Listen attentively to what they have to say. Caregivers don't expect you to solve their problems, but they do need the opportunity to vent their frustrations and sorrow every once in a while. While you don't need to offer solutions, do respond every once in a while with a nod or short comment to assure them that you are engaged and truly do care.
Don't be Judgmental
3 Don't judge or second guess the caregiver's decisions. Refrain from voicing your opinion on things such as how you really feel about them quitting their job to provide unpaid care, how you feel about the care decisions they made, and so on. You may not be aware of all of the details of a situation and criticism is rarely helpful nor well received.
Ask What they Need
3 Caregivers often won't ask for help from friends and family. However, it is impossible to do everything on one's own for many different situations in life, including caregiving. Caregiving can leave a person feeling emotionally and physically drained and you aren't expected to know exactly what they need. So take the initiative to ask what they need. While a caregiver may turn you down for help, just knowing that you offered can lift their spirits and let them know they can turn to you when they really do need help. Along those lines, don't stop offering because you got turned down a few times from them.
Offer Your Time
4 Family caregivers more than anyone else find themselves wishing for more hours in the day to tackle everything they need to do. So offer the gift of your time. This could mean researching their loved one's condition, making dinner for them, or even just sitting with the patient so they have the opportunity to run some errands or visit their own doctor.
Keep Them Feeling Included
5 While you certainly don't want to overwhelm a caregiver with invitations that you know can't be accepted, make sure that you keep them feeling included and in the loop. Extend invitations when practical and can be accepted. And of course, don't guilt your friend for declining an invitation. Remember, just because they are too fatigued to do anything outside of the care they are giving to their loved one, that doesn't mean they don't want to be remembered.
Are You a Family Caregiver Who Needs Assistance?
All American is a home care and home health care service in Philadelphia, Pennsylvania. We are dedicated to providing the highest quality care to our valued patients and community. We can help lessen the burden on family caregivers with our expert care. Reach out to us today to learn more.