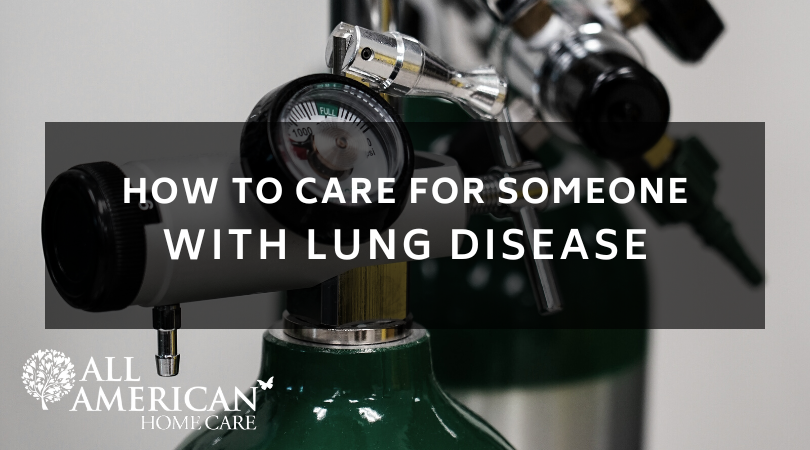 How to Care for Someone with Lung Disease
November 15 2022
6 Tips for a Higher Quality of Life for Those Living with Pulmonary Illness or Long COVID
The simple act of breathing is something many of us take for granted. But for those with lung disease, or even long COVID, breathing easier is something that is top of mind. For these patients, a slight wheeze or occasional chest pain is something to be paid close attention to. This is because these symptoms can indicate the presence of a serious underlying issue.
In this article, we'll look at some of the basics of lung disease as well as some actionable ways you can improve the lives of those living with lung disease or breathing issues.
Lung Disease Basics
Breathing issues are a hallmark of several types of lung diseases, including:
COPD (chronic obstructive pulmonary disease)
Emphysema
Pulmonary Edema
Chronic Bronchitis
Lung disease is much more common than most people probably realize. The American Lung Association estimates that more than 16.4 million Americans have been diagnosed with COPD, but that millions more may have the disease without even knowing it.
The Effects of Long COVID
There is still much to be understood about the long-term effects of surviving COVID. However, long-haul COVID sufferers have commonly reported symptoms of fatigue and respiratory symptoms such as difficulty breathing, shortness of breath, and a cough.
How You Can Help
Living with pulmonary (lung) illness is often exhausting and uncomfortable. Caring for someone with lung disease can also be daunting. Fortunately, there are many things you can do to help a patient or loved one manage their symptoms and recognize the signs of worsening conditions and avoid a medical crisis.
Here's how to care for someone with pulmonary illness and improve their quality of life.
Journal It
1 Encourage the patient or caregiver to keep a health journal. This allows the medical team to spot triggers and have an accurate and up-to-date report on the health of the patient. Consistency with entries is key for real meaning to be derived from the information. Things that should be recorded in this health journal include:
Breathing patterns (both easy and difficult, coughing, wheezing, tight chest, etc.)
Medications (note current medications and any changes, as well as side effects and improvements)
Dietary and digestive changes
Sleep habits and quality
Vitals information including blood pressure, cardiac rate, respiratory rate ,and oxygen saturation (tools for gathering this information include a blood pressure cuff and an oximeter)
Exercise and other activities that require physical exertion and the effect this has on breathing
Diet Matters
2 The American Lung Association has several dietary recommendations for those living with pulmonary illness. Aside from eating a healthy and nutritious diet, there are a few other tips that can help the patient or your loved one get the nutrition they need to boost their energy levels and improve daily function.
Instead of eating three larger meals, eat six smaller meals throughout the day. Being less full will result in less stress on the diaphragm and allows for easier breathing.
If the patient becomes fatigued later in the day, get them to eat their main meal in the morning or at lunch.
Avoid foods that cause gas as bloating can be especially uncomfortable.
Many with lung disease take steroids on a long-term basis. This and other medications can interfere with the metabolism of vitamins and minerals such as calcium and vitamin D. If supplements are prescribed, encourage the patient to take them as directed.
Staying Active
3 Being overweight or obese can make it more difficult to breath effectively. So while exercising might seem like a no-no for someone who struggles to breathe during daily living activities, light exercise can improve blood oxygen levels, sleep quality, cardiovascular functioning, and weight loss. The patient should follow an exercise regimen provided by the health care team.
Improving Indoor Air Quality
4 Minimizing exposure to irritants and indoor air pollutants can help improve breathing. If the patient or someone in the household is a smoker, do everything you can to help them quit.
Allergens, chemicals, and mold can also trigger flares or exacerbate symptoms. Avoid using strong smelling chemicals or heavily fragranced products. Regular vacuuming and dusting will cut down on mold spores, pet dander, and dust mites. Be sure to use a HEPA filter. Ensure that areas where water is present are well ventilated, such as laundry rooms, bathrooms, and kitchens. Also take care of any leaks right away that could lead to mold or mildew.
Tips for Better Sleep
5 Sleep can be easily interrupted by reduced lung functioning. Many patients will find it difficult to breathe while lying completely flat. To help reduce this discomfort, prop them up with pillows or use an adjustable bed for better sleep.
Know When to Call the Doctor
6 Knowing when to call the doctor or 911 is key to preventing bad situations from getting worse. The National Heart, Lung, and Blood Institute recommends seeking immediate medical attention if the patient has:
Increasingly difficult breathing or wheezing during usual activities or while talking
Increased coughing or an increase in mucus or chest pain with coughing
Mucus that is bloody, has an odor, or is green or yellow
Swollen hands, ankles, or feet
Markedly increased fatigue
Muscle cramps or weakness
Shortness of breath that interrupts sleep
Blue or gray lips or fingernails that indicate low blood oxygen levels
Change in alertness
Get Care in the Comfort of Your Own Home
If you or someone you love is living with pulmonary illness, you can get expert care right in the comfort of your own home! All American Home Care has certified, experienced caregivers who help our patients enjoy a higher quality of life right at home. We are here for you and your loved one around the clock, even on nights and weekends. If you live in the Philadelphia area and are seeking compassionate, high-quality care, contact us today to learn how we can help you or your loved one live an independent life in the comfort of their own home!