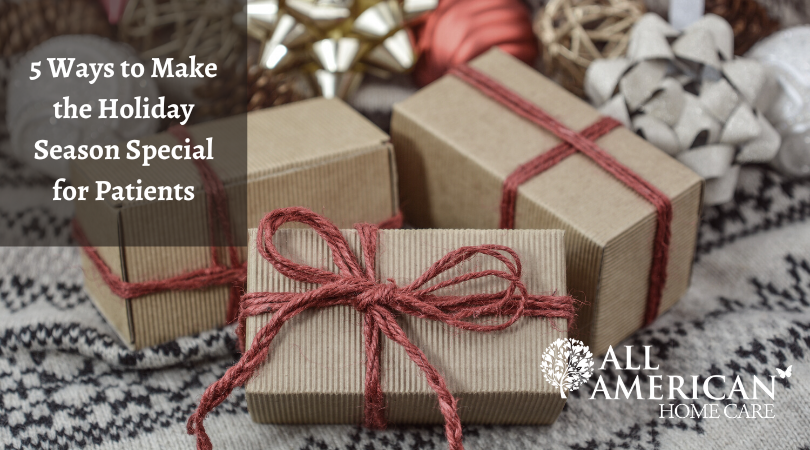 5 Ways to Make the Holiday Season Special for Patients
November 08 2022
Ways to Make Spirits Bright for Patients During the Holiday Season
For many, the holiday season is a magical time of year, full of traditions and joy. However, it can be a difficult time for many, especially those in home healthcare. It can also be a time of sadness and loss for patients, or a time of loneliness for those whose family is far away. On top of feelings of loss of independence or the loss of a spouse, the holiday season can be an emotional rollercoaster ride.
Each patient's situation will be different, however, no matter the situation, it is important to take time to celebrate what makes life worth living. That is why it's so important to try and make your patients' holiday season special and to lift their spirits during a time that can otherwise be difficult.
Here are five ideas to help lift your patients' spirits and make their holiday season a little brighter.
Learn Their Traditions
1 Learning what has made past holiday seasons so special for your patients can help you make the current holiday season more merry and bright. Have conversations with your patients about what their traditions were, the food they ate, and any special memories they have. Sometimes reminiscing can help bring joy to your patients. For patients that are unable to communicate, speak with a family member or loved one about what you can do to make their holiday season more special.
This knowledge is also power. Make your patient's favorite cookie or latkes recipe, if possible. Or pull out their decorations and decorate the house together. Watch their favorite holiday movie or sing their favorite holiday tunes.
Make Connections
2 Because this season can be so lonely, it's important to make a deeper connection with patients. Feelings of loss, seasonal depression, and isolation can pile on, making the holiday season especially tough. To help your patients feel a little less lonely, help them feel more connected by arranging phone calls with loved ones and friends. Also help them send out holiday greeting cards or presents. To help them feel more connected with those who have passed on, pull out old photo albums if you think they might enjoy reminiscing.
Wear Holiday Scrubs
3 Sometimes a little joy can come from wearing something festive. Put on some holiday scrubs, or if you have a uniform, wear some fun holiday accoutrement such as a pin, holiday cardigan, or hat. Wearing something festive can help put a smile on the face of your patients or even open the door to conversations about traditions.
Help Them Deal with Changes
4 If your patient is still processing a new diagnosis or change in their life, it can make the holiday season a gloomy time. A patient may feel like they are missing something due to their changed circumstances. Talking about how they are feeling can help you assist them work through their feelings. However, you don't want to pressure your patient to talk about their feelings if they aren't ready. Continue to reassure them that you are available to listen to help them feel more comfortable opening up to you. Helping a patient work through those changes can lead them to healing and greater happiness, not just during this time, but overall.
For Those Who are Very Ill
5 Some patients may be very ill or have dementia and might not understand that it is the holiday season. Don't let that stop you from making the season more special for your patient. Decorate their home and make special holiday treats for them. When they have a moment of lucidity, they will appreciate what you have done for them.
Takeaway
As a caregiver, you make a meaningful difference in the lives of your patients each and every day, but it can be especially meaningful during the holidays. Sharing holiday traditions and doing festive activities can help your patient create new, meaningful memories around the holiday season that they will continue to cherish.