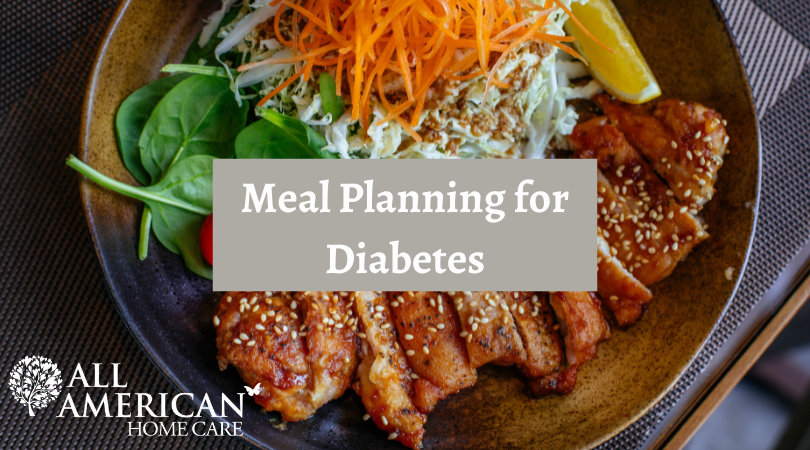 Meal Planning for Diabetes
July 19 2022
Basic Tips to Help You Plan Meals that are Diabetes-Friendly
Diet is an important aspect of managing diabetes. It's not just watching what you eat that is important, but also when you eat, in order to keep your blood sugar levels balanced. This can be no small task, so here are some meal planning ideas to help make your life easier.
Basic Tips and Reminders for Diabetic Meal Planning
Any good meal plan will consider your goals, lifestyle, tastes, as well as any medicines you are taking. Be sure to consult your doctor on your meal plans. Also make sure to read food labels!
A good meal plan will also:
Include more non-starchy veggies, like spinach, green beans, or broccoli.
Include fewer added sugars and refined grains, such as white bread, rice, and pasta with less than 2 grams of fiber per serving.
Focus on whole foods instead of highly processed foods as much as possible.
Carbohydrates in the foods you eat will raise your blood sugar levels. However, it is important to keep in mind that how fast they raise your blood sugar depends on what the food is and what else you eat it with. A good example is drinking fruit juice; this raises your blood sugar faster than eating whole fruit. Also, eating carbs with foods that contain protein, fat, or fiber slows down how quickly your blood sugar rises.
Tools of the Trade
What you eat and how fast your blood sugar rises means it is important that you plan for regular, balanced meals to avoid high or low levels. Eating about the same amount of carbs at each meal can be helpful. Two common tools that can make meal planning easier are the plate method and counting carbs.
Counting Carbs
Many of us have heard of counting carbs before; this is simply keeping track of how many carbs you eat and setting a limit for each meal. This can help you keep to your target range. Because everyone is different, you should work with your doctor or a registered dietician to find out how many carbs you can eat each day and in each meal. For assistance counting carbs, refer to this list from the CDC (Centers for Disease Control and Prevention).
The Plate Method
It is so easy to eat more food than you need without realizing it. The plate method is simple and a great visual way to make sure you are getting enough non-starchy veggies and lean protein while limiting the amount of higher-carb foods that have the biggest impact on your blood sugar.
Start with a 9-inch dinner plate. Fill half with non-starchy veggies. Then fill one quarter with lean protein (chicken, turkey, beans, tofu, or eggs) and the final quarter with carbs. For your drink, opt for water or unsweetened iced tea to go with your meal.
Portion Size
Portion and serving size aren't always the same thing. Portion is the amount of food you choose to eat at one time, while a serving is a specific amount of food (generally listed on food items).
Restaurants often serve portions that are quite a bit larger. In fact, one meal can equal three or four servings! When eating out, have half of your meal boxed up to go so you can enjoy it later. When you are at home enjoying snacks, measure out your snacks rather than eating them from the bag or box to avoid eating too large a portion.
Your hand can help you measure the correct portion size. Here's a "handy" guide:
3 ounces of meat, fish, or poultry: size of the palm of hand (no fingers)
1 ounce of meat or cheese: size of thumb (tip to base)
1 cup or 1 medium fruit: your fist
1 to 2 ounces of nuts or pretzels: cupped hand
1 tablespoon: thumb tip (tip to first joint)
1 teaspoon: fingertip (tip to first joint)
Focus on Heart-Healthy Foods
Diabetics are at a higher risk for heart issues, so it is key that you focus on eating heart-healthy foods to reduce your risk. This means cutting back on less healthy fats, getting to and maintaining a healthy weight, and reducing your sodium intake (especially if you have high blood pressure).
Foods to reduce or avoid:
Packaged snacks
Sweets
Baked goods
Fried foods
Red meat
Processed meats like bacon and sausage
Heart-healthy foods:
Fresh veggies
Whole grains
Fruit
Nuts
Avocados
Plant-based oils
Fish rich in omega-3 fatty acids, like salmon, albacore tuna, herring, rainbow trout, sardines, and mackerel
Some additional heart-healthy tips:
Use herbs and spices for flavor instead of salt, butter, or other unhealthy fats
Try a squeeze of fresh lemon juice over steamed veggies
Add onion and garlic
Try marinades with healthy plant-based oils, herbs, and spices
Trim the fat from meat and poultry
Roast your meat rather than fry it
Try substituting healthier foods for non heart-healthy ones. For example, swap out sour cream for plain yogurt or mustard instead of mayo.
To learn more about a heart-healthy diet, check out our article on nutrition for heart health.
Prep for Quick Meals
Life can get busy; prep ahead of time for quick meals so healthy never takes a backseat to whatever is easy to grab. There are many healthy options for meals that you can assemble ahead of time and store in your fridge or freezer for when you need them!
Need More Information?
Be sure to always work with your health care team to create the right meal plans for you! To get you started about what to discuss with your care team, here is our diabetes-friendly grocery list.
If you are a caregiver of a diabetic and are looking for tips on how to help your patient or loved one avoid complications of diabetes, read our article with tips for caring for patients with diabetes.
Looking for a home healthcare company to help care for your loved one with diabetes? All American is here to help! We provide the same level of care as we would for our own family, helping our patients live happier, more fulfilling lives. Contact us today to learn more.