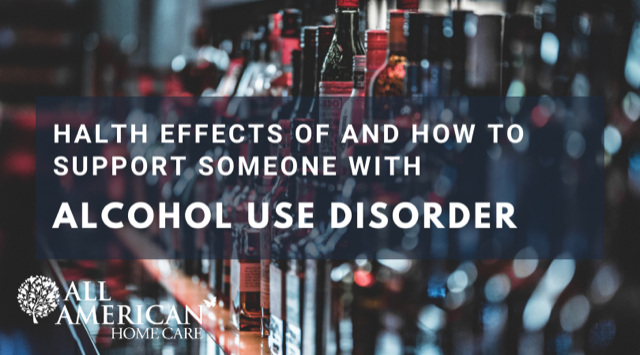 Health Effects of and How to Support Someone with Alcohol Use Disorder 
April 05 2022
Care and Recovery Tips for Alcohol Use Disorders
Helping a patient or loved one with an alcohol misuse problem can be tricky. However, it is important to remember that alcoholism is a disease of addiction. In order to support someone with an alcohol use disorder, it is important to learn as much as you can about the disease.
Signs of an Alcohol Use Disorder
Someone with an alcohol use disorder will have both a physical and psychological dependence on alcohol and will use it despite it causing health and other problems. Alcoholism can range from mild to severe.
Some signs to pay attention to include:
Failed attempts to cut back or stop drinking
Using alcohol to help with emotional or physical problems despite knowing that alcohol use will only make the problem worse
Using alcohol in risky circumstances, such as driving or swimming
Increased family conflict due to a person's use of alcohol
Alcohol use prevents a person from fulfilling family and work responsibilities
Craving to use alcohol and spending a lot of time looking for it or recovering from using it
A person's tolerance to alcohol gets higher and higher (meaning they must drink more to get the same effects)
Withdrawal
Health Effects of Alcoholism
Heavy drinking can lead to some serious widespread health problems. Short-term effects include memory loss, hangovers, and blackouts. However, long-term problems can affect many parts of the body. Health effects include:
Stomach ailments
Heart problems
Cancer
Brain damage
Liver cirrhosis
Serious memory loss
Heavy drinkers are also at a higher risk of dying from automobile accidents, homicide, and suicide. While men are much more likely to develop alcoholism, women's health suffers more, even at lower levels of consumption.
Beyond the serious health effects that occur to the drinker, the problems don't stop there. Spouses and children of alcoholics may face family violence, neglect, and develop their own psychological issues. Relatives, friends and even strangers can be injured or killed in alcohol-related accidents and assaults.
How to Approach Someone with an Alcohol Use Disorder
Learn about alcohol use disorder. Before you do anything, it's important to understand this disease of addiction. Sometimes alcohol is used as a coping mechanism.
Practice what you are going to say. Let the person know you care about them and are available. Formulate positive statements of support and avoid being negative, hurtful, or presumptuous. Use "I" statements to reduce accusations.
Pick the right time and place. Have the conversation in a quiet and private place. Most importantly, the person should be sober.
Be open and honest. Tell your loved one that you are worried they are drinking too much and let them know you want to be supportive. Be prepared to face a negative reaction and don't take it personally. Give them time and space to make an honest decision and listen to what they have to say.
Offer your support. You can't force someone who doesn't want to go into treatment. All you can do is offer your help.
Intervene. Approaching someone is different from an intervention, which is more involved. This involves planning, giving consequences, sharing, and presenting a treatment option. An intervention may also be a course of action if the person is very resistant to getting help. Interventions are often done with the help of a professional counselor.
How to Support a Loved One Through their Journey
Treatment for alcohol use disorder is an ongoing process. Your part is not done once your loved one is in therapy. If they are open to it, offer to attend meetings with them. It is important to stand by your loved one during and after treatment. Even after recovery, they may be in situations they can't predict.
Some Don'ts:
Don't drink around your loved one, even in social situations
Don't take on all their responsibilities
Don't provide financial support unless the money is going directly to treatment
Don't tell them what to do or what's best for them
Medical Care and Treatment for Alcohol Use Disorders
The earlier you can help get your loved one into treatment the better. If health problems are more severe, your loved one may need an entire team of medical professionals to help them with recovery and treatment. Related health issues, such as liver cirrhosis, cancer, or heart problems, will be treated by a team of nurses, doctors, and health aides. A professional counselor will provide therapy to assess the patient, offer guidance and motivation, as well as using cognitive-behavioral coping skills treatment and motivational enhancement therapy. Additional therapies include 12-step facilitation approaches to assist those with drinking issues in using self-help programs such as Alcoholics Anonymous (AA).
Some Key Takeaways
It is important to keep in mind that alcoholism is an addiction. It is not uncommon for those with an alcohol use disorder to have one or more relapses. Because it is an addiction, your loved one or patient will need lifelong support even after formal treatment ends.
Also know that you cannot force someone to seek help. You can only offer your support and love. Finally, remember that you also must take care of yourself. The emotional impact of helping a loved one stay sober can take a toll. If you begin to feel stressed or depressed, seek help from a therapist or counselor.