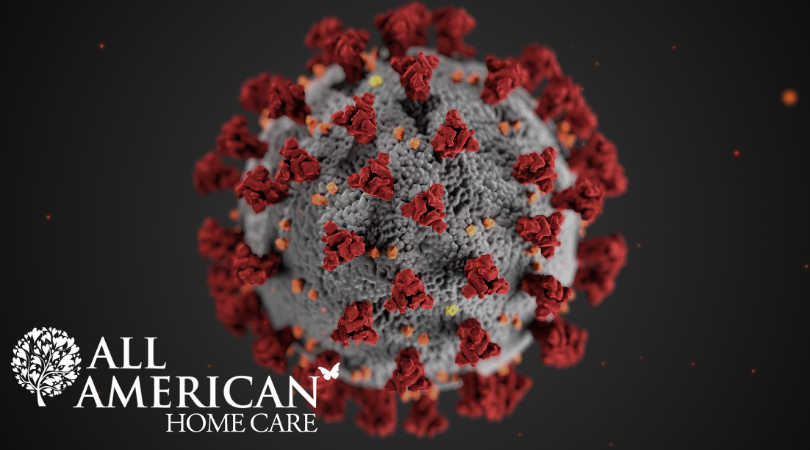 What Should Caregivers Know About Home Healthcare in Our World Today After COVID-19?
September 28 2021
The COVID-19 pandemic rocked our world and changed it forever. Over 600,000 Americans and over 4 million people worldwide have died. While progress has been made with the creation of vaccines, getting shots into arms has been difficult in some cases. Worldwide, there are many countries who have not received any or much of the vaccine and there is the issue of vaccine hesitancy. This has allowed for the spread of variants that we are still currently dealing with. So while we aren't completely done with the pandemic, we are taking a look to the future at what you need to know about home healthcare post-COVID.
Continuation of Safety Protocols
Because patients of home healthcare are some of the most vulnerable in our society, it is highly important that they are protected from variants of COVID-19 and future virus outbreaks as much as possible. This means that many of the safety protocols that went into place at the beginning of the Coronavirus pandemic will remain in place. This will ensure that exposure for patients is minimized. Which safety protocols are kept will differ from one home healthcare agency to the next, however it could include limiting the number of patients a care team works with, continued mask wearing, and continued testing for COVID-19 and its variants.
Increased Need
While safer at home has always been the mantra of home healthcare, many people learned just how important this is during the pandemic. So while the need for home healthcare workers was already increasing pre-pandemic, COVID-19 made that increase jump up drastically as people looked for healthcare alternatives to being in a hospital or long-term care facility. Post-pandemic, we do not expect that need to drop, but rather, only continue increasing. We expect a continued increase in need for home healthcare workers of every kind, but particularly home health aides.
Dealing with Healthcare Worker Burnout
During the pandemic, we saw the exhaustion of healthcare workers, most notably shown in the media were those in hospital ERs dealing directly with COVID-19 patients. However, healthcare worker burnout has been an industry-wide issue during the pandemic. With a shortage of workers already in some areas, this caused an increase in demand for those currently in the field during a highly stressful period. This may cause some to experience burnout, stress and anxiety. It may cause some caregivers to leave the healthcare field altogether. It may even keep new people from wanting to start a career in healthcare. Overall, this can cause a continuation of healthcare worker burnout that needs to be dealt with. This includes encouraging people to look into a healthcare career, hiring more employees where needed, and helping current employees deal with burnout through counseling and other emotional support services.
Caring for COVID-19 Long-Haulers
Not only are we reeling from the sheer loss of lives due to the Coronavirus pandemic, but we are still dealing with many who recovered from COVID-19. There have been over 34 million cases in the US alone since the start of the pandemic, and many of the survivors are what is being referred to as COVID-19 Long-Haulers. Because studying the effects of this virus takes time, we don't know how long someone may experience side effects from having battled COVID-19.
What we do know is that many people, including some of those who got sick during the earliest days of the pandemic, are still dealing with side effects, including shortness of breath, fatigue, joint pain, memory issues and more. COVID-19 also causes damage to the heart, lungs and brain, and survivors may have an increased risk of related long-term health problems. What does this mean for caregivers? It means that we will be caring for these long-haulers for the foreseeable future, whether it is in an emergency situation where they are readmitted for long-lasting complications or require 24/7 care in a home care setting because they are no longer able to work.
Preparing for Future Pandemics
We are now in a new normal. The CDC and the WHO both agree that it isn't a matter of if, but a matter of when we have another pandemic like COVID-19. The Coronavirus showed us where there were holes and flaws in our healthcare system. That means we need to prepare now for future pandemics, including training caregivers on safety protocols and general education about viruses and pandemics.
Conclusion
The road ahead for the healthcare industry still isn't 100% clear. But with dedication, hard work and perseverance, we can deal with the bumps along the way as we begin to understand what our new normal will be.
If you feel called to start a career in healthcare to help others, we'd love to have you on our team! All American offers competitive benefits, including a higher salary, direct deposit and generous paid time off after a year of full-time work. Visit our careers page to learn more and apply today!
Discover Our Services: home health and hospice jobs | best home care agencies | elderly health care | home health aide certification in pa | 24 7 nursing care at home | in home nursing services near me | philadelphia aging corporation.