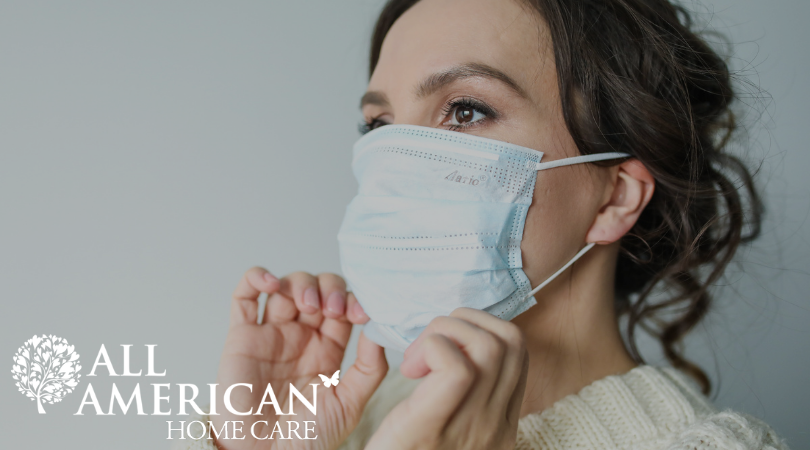 How COVID has Changed the Face of Home Healthcare Forever
May 04 2021
Plus a Few Ways the Healthcare Industry at Large has Changed
Vaccinations for COVID-19 are in full swing across the country, but the pandemic has forever changed society in many ways. Hundreds of thousands of Americans were lost to this pandemic and that means empty seats at the dinner table for many families. The pandemic also made many more aware of just how easily germs spread. But some of the biggest changes have come to the healthcare industry itself.
Before we get into how COVID has forever changed home healthcare, let's take a look at a couple of the ways in which it has changed the healthcare industry at large.
A Focus on Racial Disparities
COVID-19 drew stark contrast on a problem that already existed in this country: disparities in care for people of color. Black and Hispanic Americans died at alarmingly higher rates than their white counterparts. For example, two-thirds of Chicago's deaths were Black Americans, despite only making up one-third of the city's population. While some of the disparities in Coronavirus deaths can be attributed to the fact that people of color are often working in jobs that are considered essential, it has also prompted the healthcare industry to have a long-overdue reckoning about health disparities and the social determinants of health. This reckoning is going on throughout the healthcare industry from private health insurance companies to big hospitals to home healthcare agencies.
A New Era of Preparedness
An overwhelming consensus found that America's healthcare infrastructure was not ready for the pandemic. The early days of the pandemic showed that there was a lack of PPE (personal protective equipment), testing, staff, and medical machinery among other issues. This has prompted calls from people across the country to scale up the country's disaster preparedness. While much of this focus looks to the federal government to provide funding, hospitals, clinics, other facilities and home care agencies are looking at ways to prepare for the next pandemic. This can include new safety protocols, increasing the number of available treatment machines, increasing the number of medical staff and stockpiling PPE for future healthcare crises.
The Rise of Telemedicine
Pre-pandemic, healthcare providers were inching toward making more services available via telehealth. However, the pandemic accelerated the growth of telemedicine, pushing that looming revolution forward by about a decade. This type of care is great for those who don't require in-person contact to receive their care. It is a quicker and safer way to check in with your doctor or specialist for many Americans.
The Fall of Nursing Homes and Assisted Living Facilities
In most states, nursing home deaths soared because of the pandemic, with the virus spreading like wildfire among residents of long-term care facilities across the country. The disturbing statistics have many rethinking long-term care. Many see that housing society's most vulnerable in close quarters may have forever lost its appeal. Which leads us to the next change in healthcare, and an alternative to long-term care in a facility.

Increase in Demand for Home Healthcare
If there is anything this healthcare crisis has taught us most acutely it is that we are "safer at home." This led to an increased demand for home healthcare services during the pandemic and this is not expected to change post-pandemic. Home healthcare was already on the rise pre-pandemic, with many elderly Americans finding more comfort living out their days at home rather than in a long-term care facility. But the pandemic severely increased the demand for home healthcare services because people wanted to receive top-notch care in the safety and comfort of their own home.
Many doctors and scientists have agreed that another global pandemic could happen again and that it is only a matter of time. Many Americans are heeding this warning and, like many in the healthcare industry, are preparing for a future in which global pandemics aren't a rare occurrence, but a common one. This means there will continue to be a huge demand for home healthcare for the foreseeable future. This translates to an increased need for home healthcare employees as well as the need to properly supply those employees with what they need to do their job well and safely.
Preventing the Spread of Illness between Patients' Homes
While home healthcare teams see less patients in a day than in a long-term care facility or hospital, it is still possible to spread illnesses between patient homes. There is no standard rule for how home healthcare agencies can prevent the spread of illnesses, especially highly contagious and deadly viruses, but many have been looking at what they need to do to keep their patients and employees safe.
These changes can include limiting the number of patients each care team is in charge of, regular testing for fever or illness, offering more sick leave to prevent employees who are ill from coming into work, using telehealth when possible and of course, providing the necessary PPE for all employees. This of course, like everything else, takes funding.
Conclusion
COVID-19 forever changed the healthcare industry, including home health care. The mantra of "safer at home" changed how we view health and healthcare. Because of this, we've seen an increased demand for home healthcare services. This increased demand also means trying to balance the needs and safety of both employees and patients.
Want to join a team that is dedicated to providing the highest quality of home health and personal care services? All American Care understands that our employees are our biggest asset and that is why we offer competitive benefits, including a higher salary and direct deposit of paychecks. Check out our careers page and apply for a job today!
Discover Our Services: temporary caregiver jobs | home based care services | in home health care for seniors | right to know training philadelphia pa | 24 hour home care services | always care nursing service | agency on aging pa.