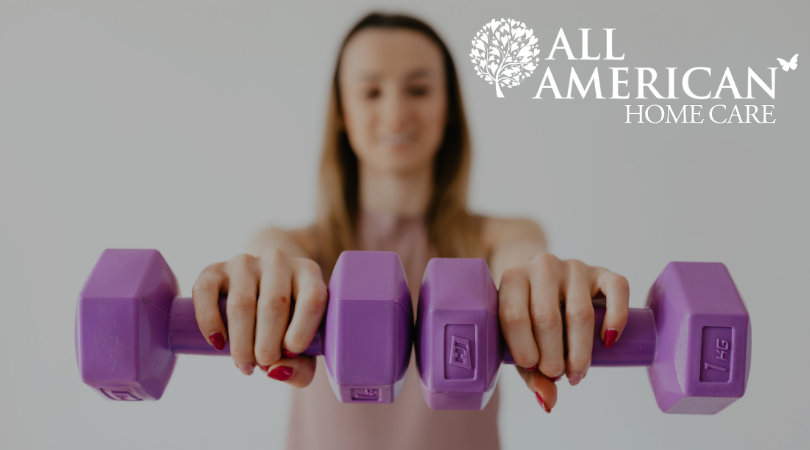 How to Stay Healthy as a Home Health Aide
March 16 2021
7 Tips to Keep You Happy and Healthy Year Round
Taking care of others takes a toll on your body and your mind, especially if you work long hours. Not to mention that spending so much time in other homes can expose you to other health risks. However, the most important thing you can do to take the best care of your patients as possible is to take care of you! When you are happy and healthy, you are able to do what it takes to care for your patients. Your mind is clearer and you can react faster to dangerous situations that could be detrimental to your patients, such as falls. Plus, attitude is contagious and when you are happy, your patients can't help but feel the love!
Here are our 7 tips to keep you happy and healthy all year long.
Work Out
1 Exercise is a great way to keep you limbre and ready for anything the day throws at you. Even just a few morning stretches will make you feel great. Some other great exercises to help keep you limbre and improve your balance include yoga and tai chi. Don't forget to stretch a bit during the day as well and practice some calming stretches at the end of the day to relax and unwind.
Exercise also has the positive benefit of releasing endorphins. These hormones lift your mood and make you feel happier. So if you feel down about your day, don't skimp on the workout!
Eat Healthy
2 During a busy work day we know it can be hard to grab something to eat and sometimes the easiest things aren't always the healthiest things. Make sure that you are eating lots of nutrient dense foods like fruits and veggies, and avoid fatty and sugary foods that won't give you the energy you need to get you through your day. To help make eating healthy easier during the workday, prep a bunch of healthy items the night before your work week, such as cutting and bagging your fruits and veggies. Make sandwiches or other items the night before work. Then all you have to do is worry about grabbing your lunch from the fridge as you head out the door!
Stay Hydrated
3 When you feel thirsty, you are already dehydrated. So make sure that you sip on water throughout the day. Try to stay away from energy drinks or too many cups of coffee. Once the caffeine and sugar buzz wear off, you'll be dragging the rest of the day. Not to mention that caffeine actually dehydrates you!
Watch for Hazards at Work
4 Working as a home health aide presents challenges that you wouldn't find working in a facility. So make sure that you watch out for falling or tripping hazards, like uneven steps or ice during the cold months. If you see other things like rodent droppings, insects or even mold, let your agency know. All of these things can cause unpleasant diseases or illness for both you and your patient.
Remember Good Hygiene
5 Make sure you are taking the time to wash your hands throughout the day to keep germs and bacteria at bay. Use soap and warm water and use the proper scrubbing technique. Wear gloves when assisting your patient as necessary and use hand sanitizer when washing your hands isn't an option.
Ask for Help
6 You are not alone so don't be afraid to ask your team for help if you need it! Asking for help is better than throwing out your back, or worse, harming your patient because you couldn't transfer them on your own.
Take Care of Your Mental Health
7 In order to be in the best shape, we should not only care for our body but our mind as well. Practice self-care by scheduling time each week to do something you love or something that is relaxing. This can be reading a good book, having a game night with your family, taking a hot bath, getting a massage or crafting. Just do what makes you happy!
Meditation is also a great way to center yourself at the beginning of each day or to wind down and get ready for bed at night. Calming breathing exercises can also help to keep anxiety and stress at bay anytime you need it. And don't forget to reach out when you need to talk. Find someone you can trust, whether that is your partner, a good friend or even a therapist. There is absolutely no shame in reaching out when you need it because everyone needs a little help every now and then!
Discover Our Services: nursing jobs in allentown pa | helping home services | how to find in home care for elderly | free home care training | 24 hours home care | at home nursing care | pa dept of aging phone number.