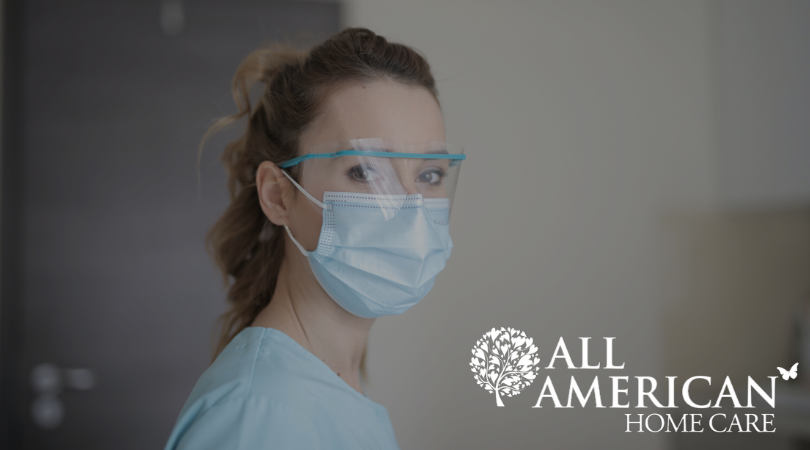 How We are Keeping Patients and Staff Safe for Home Healthcare Services
August 20 2020
Continuing Home Care Safely During the COVID-19 Pandemic
Stopping or limiting the spread of COVID-19, also known as Coronavirus, is the best way to keep ourselves and those around us safe until a vaccine is developed. Those who are older or have a chronic illness are more at risk for severe complications if they contract Coronavirus. Because this more vulnerable population tends to also be home healthcare patients, we are taking all the necessary precautions to keep you and our employees safe. Our patients are like our family and we want you to have the peace of mind that you will receive the best care possible in the safest environment.
What We Are Doing
Practicing Good Hand Hygiene
According to the CDC and other national and international health organizations, regular proper hand washing helps limit or stop the spread of COVID-19. With this guidance in mind from the CDC, all our employees, whether they work with patients or not, are practicing good hand hygiene by washing our hands more often, or using hand sanitizer (with at least 60% alcohol) when hand washing is not an option. Our care teams have also been teaching our patients and their families how to properly wash their hands and about good hand hygiene.
Monitoring Temperatures and Health
All our employees are monitoring their health and checking their temperature. Our care teams are also doing the same for our patients as they monitor vitals. Family caregivers are encouraged to help monitor the patient's health and their own. This vigilance will help identify those who are sick earlier and thereby limit the spread of COVID-19.
Wearing Personal Protective Equipment (PPE)
Our employees are wearing the necessary PPE to protect themselves and our patients and their families. All our employees, even those who work at the offices, are wearing masks during working hours to ensure that the spread of the virus is limited as much as possible. Care team members will wear masks, gloves and any other necessary equipment during patient visits, properly disposing of masks and gloves each time they are taken off and donning clean PPE with each patient visit. We are encouraging the family members of the patient to wear a mask during our care team member visits or to adhere to social distancing guidelines. If the patient is able to safely wear a mask during a care team member visit, we recommend it, though this is on a patient-by-patient basis, so please speak with your care team about this.

Limiting Contact
Our employees are limiting their own contact with others as much as possible during this time to limit the spread of COVID-19. We are asking our patients to also limit their contact with others. Our recommendation is that if they have visitors, that their visitors must quarantine for 14 days prior to coming to visit the patient. Family caregivers and family members who live with the patient are also encouraged to isolate as much as possible, only going out when absolutely necessary in order to protect their loved one's health.
Isolating if Showing Symptoms, Testing
If an employee, patient or family member living with the patient begins showing symptoms, it is imperative that testing for the virus is done as soon as possible. Family caregivers should contact the care team right away if they suspect their loved one is showing signs so that a test can be administered as soon as possible. Family members who live with the patient who are feeling ill should self-isolate straight away. If the family caregiver is the sole person living with the patient, contact the care team to work out extra care for the patient to ensure care continues. If an employee is experiencing symptoms, they will self-isolate at home and get tested as soon as possible. Once an employee tests negative for Coronavirus, they will be allowed to return to work. If a care team member is out sick, know that we will work to ensure there is continuity of care by scheduling other employees to step in when needed.
Contact Tracing
Because we work in care teams, it is easier for us to do contract tracing through our employees. If someone becomes ill and test positive for COVID-19, we will have all other employees who came into contact with that person self-isolate, testing for Coronavirus when needed.
Helpful Information to Know
Symptoms of COVID-19
According to the CDC, symptoms of Coronavirus may appear 2 to 14 days after exposure to the virus. If the patient is experiencing any of the symptoms, contact the care team right away. People with these symptoms may have COVID-19:
Fever or chills
Cough
Shortness of breath or difficulty breathing
Fatigue
Muscle or body aches
Persistent headache
New loss of taste or smell
Sore throat
Congestion or runny nose
Nausea or vomiting
Diarrhea
Proper Hand Washing
Wash your hands with warm water and soap for at least 20 seconds. Be sure to scrub:
Both sides of your hands
Between your fingers
Around your thumbs
Under the nails
Around your wrists.
If you need additional help learning the proper handwashing technique, please speak with a member of your care team.
Make sure that you wash your hands properly before:
Preparing and eating food
Caring for a patient
Inserting or removing contact lenses
Touching your face (such as when you apply creams, makeup, etc.)
And wash your hands properly after:
Preparing food
Toileting, changing a diaper or cleaning up a child who has used the toilet
After touching animal waste
Blowing your nose, coughing or sneezing
Handling garbage
Hand Sanitizer Dos and Don'ts
When hand washing is not an option, use hand sanitizer but follow these guidelines:
Do use hand sanitizer that is  60% alcohol or more.
Don't use hand sanitizer that is less than 60% alcohol.
Do check the label to find the appropriate amount to use.
Do apply the gel to the palm of one hand and then rub your hands together.
Do rub the gel over all the surfaces of your hands, fingers and wrists until your hands are dry.
Keeping Surfaces Clean
Keeping surfaces that we touch clean can also help limit the spread of COVID-19. Our patients and their family that live with them are encouraged to keep often touched surfaces in their homes clean. Use antibacterial wipes or sprays to clean surfaces, cleaning hot spots (like kitchen counters, handles, etc.) more often. Check the label for proper use of the wipes and sprays. Clean touch screens (such as cell phones and tablets, which are host to a plethora of germs) often with a soft cloth that has been dampened with warm water and soap, then wipe away the soapy residue with a clean damp cloth and finally a clean dry cloth to get rid of the moisture. Do not use antibacterial wipes or sprays on your touch screen devices as that can degrade the protective film on the screens.
Conclusion
Remember that we are all in this together and that we must all do our part to help limit or prevent the spread of Coronavirus. Wearing masks is about protecting those around us as well as protecting ourselves. Our promise to you is that we are doing all we can to keep our patients and their loved ones safe during this difficult time.