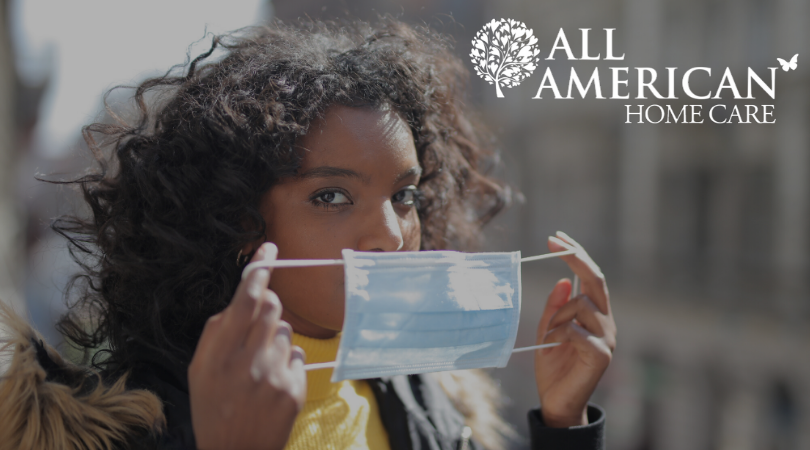 How Will Home Healthcare Work Post-COVID?
July 16 2020
Home Healthcare is More Important Now than Ever and What a New Normal Will Mean for Our Healthcare System
There is a saying about how you can't go back to yesterday, that you can only move forward. And that has never been more true as it is today. Most scientific experts agree that post-COVID we won't be able to go back to what was once normal, rather there will be a new normal. This pandemic has helped to highlight shortcomings and valuable programs within our society.
Life has been forever changed because of this pandemic. Before, we all enjoyed a certain level of trust that we could travel and meet with people without limitations or restrictions. However we now realize that a pandemic like this could happen again in the future and we need to change how we do a lot of things, such as permanently forgoing handshakes in place of another greeting method. Not only that, but it  will also change how we deliver healthcare.
An Increased Need for Home Healthcare
Home healthcare was already on the rise in popularity prior to the COVID-19 pandemic. During the pandemic, the importance of staying home became everyone's new mantra and underscored the value of home healthcare. Post-pandemic, home healthcare will continue to rise in popularity for various reasons and there will be an increased need for home healthcare workers.
Easing the Burden on Medical Facilities
During the pandemic, we realized just how overburdened our hospitals and long-term care facilities became. Post-pandemic, it is important to continue to ease that burden on medical facilities just in case we see another pandemic or have resurgence of COVID-19. And home healthcare has the ability to ease that burden by caring for people in the comfort of their own home. This pandemic not only highlighted the burden on medical facilities, but  we've also seen just how important it is to have space, or a personal bubble to protect us from future outbreaks and home health care can better provide that protection.
Expanded Need Among Vulnerable Populations
As a society, we understand there will be a new normal, but we don't know exactly what the future will hold for us all. Now that the virus has been introduced to the human population, it won't just go away. It will always be there and we will always have to deal with it, even if there is a vaccine.
How our new normal will look greatly depends on a possible vaccine and who will be able to receive it. It may be that those who are in more vulnerable categories, such as the elderly and those with autoimmune disorders, may not be able to receive a vaccination for COVID-19. The vaccination could also need to be received annually by healthy populations, like the flu vaccination, in order for it to be effective. Because of this, there may be an expanded need for home healthcare among vulnerable populations who cannot get vaccinated and must rely on others to vaccinate. And it may be hard for vulnerable populations to trust others to get vaccinated for the health and safety of everyone. For example, a young MS patient who was once able to travel to doctor appointments may need to begin home healthcare instead to continue to social distance as much as possible to protect themselves.
New Mental Healthcare Needs
Unfortunately this virus has already exacerbated signs of social anxiety and agoraphobia. People are nervous or even scared to leave their homes and that will continue even after it is safe to do so. This is because regaining trust will take time. This will mean an increased need for home health to provide mental health care, especially to those who are unwilling to leave their homes due to paralyzing fear.

Changing How Home Health Delivers Care
We understand that there will be a continued increased or new need for home health post-COVID, but we also know that there will need to be some changes to not only how care is received in medical facilities, but also how home health delivers care as well.
Expanded PPE Use
Using more personal protective equipment (PPE) on a regular basis may become the norm. Gone are the days of only using gloves during exams. As we stated earlier, this virus won't just disappear, so home health nurses and aides may continue to use additional PPE during their visits to ensure the utmost standards in patient and healthcare worker safety.
Changes to Care Teams
Home health agencies may make several changes to how many patients each team sees. One such way would be to limit the number of patients each care team is responsible for. By limiting the number of patients each team sees, it can help prevent the spread of a future virus or a resurgence of COVID-19. There could also be a limiting of how many people from the care team are going in and out of the patients' homes as much as possible. For example, home health aides, who must show up to help with personal daily or weekly needs, may receive additional training on how to take patients' vitals. This would mean that nurses wouldn't have to visit in-person as often, limiting the possible spread of any infections.
The Rise of Telehealth
Many doctors, clinics and agencies switched over to using telehealth, a cousin of sorts to home healthcare, during the pandemic to help with social distancing efforts. Even some home healthcare agencies used telehealth when possible, to help protect people. However, telehealth and home healthcare can continue to work hand-in hand post-pandemic in many ways.
First, many doctors' offices may return to seeing patients in person post-COVID. Because of this,  there is an opportunity for home healthcare agencies to step in and fill the continued need for telehealth, for example during cold and flu season. Second, home healthcare nurses can use telehealth to discuss concerns with patients more often, only going into homes to visit with patients when absolutely necessary, allowing trained home health aides to take vitals and work in conjunction with them. This will provide extra protection not only for vulnerable patients, but also for much needed healthcare workers.
Conclusion
There will be changes to healthcare–including changes in what care is needed and how that care is delivered. But one thing is for sure, healthcare workers aren't going anywhere. Even with a PPE shortage, healthcare workers still showed up to care for patients despite the personal risk during the pandemic. And these changes will allow home health care workers to continue to deliver quality, safe care to those who need it.