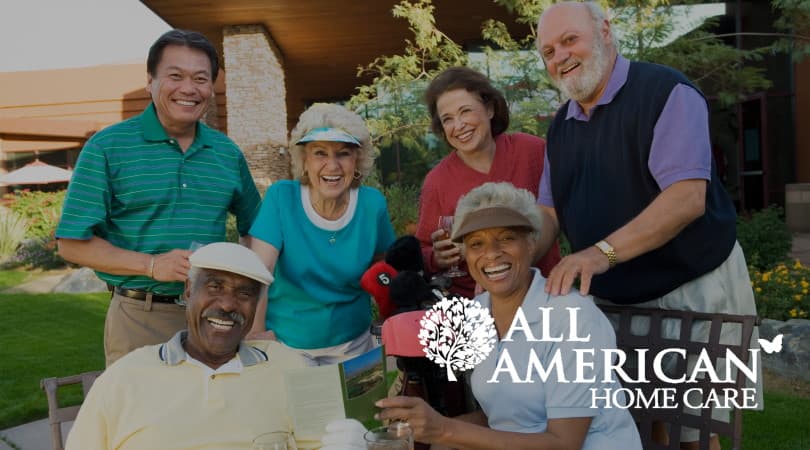 Top 6 Fun and Memory Games for Seniors
February 26 2020
Top 6 Fun and Memory Games for Seniors
As we age, maintaining brain activity becomes just as important as doing exercises and strengthening the body. Over the years, mental health often plays a big role in maintaining independence. And just like the body needs you to work out to remain strong and mobile, the brain also requires additional mental activity.
To keep the mind clear and sharp, one has to give it different tasks every day, and not just the easy ones. But you can relax, no one is talking about solving mathematical problems in your head (unless you want to, of course). There are many ways to make these activities engaging, helpful, and useful all at the same time, and the answer is – brain games for seniors!
All American Home Care is not new to helping elderly people maintain their mental health clear and facilities. Over the years, we've tried and tested many different kinds of mind games for seniors, so now we can safely share with you a list of most useful and helpful activities that we use with our dear clients.
Word Memory Games for Seniors
1One of the best ways to exercise the mind of your beloved elder is to play any kind of word games with them. Even though your grandparents may not be able to always come up with the right answer quickly or find it at all, the efforts they make are extremely vital. They give their brain tasks that stimulate it, they communicate with other people and also remember words or terms. Let's take a look at such games.
Words Association Memory Games
This game is very well-known and quite simple. Nevertheless, it's still one of the most useful memory games for elderly people. Quick guidelines for those who do not remember the rules (though they may vary from company to company). Let's say, you play this game with your grandmother. One of you says the first word, for example, "flame". Your grandmother should say the word that she associates with the word flame, like "heat". Then it's your turn again, and you say "central heating". And so, it goes until you get tired of it.
This game allows people to build associative chains, to remember the words and their meaning. Also, if played in a large group of individuals, it helps to spark communication by giving you topics for a discussion.
Words
Pretty similar to the previous activity, although it's a bit different. Players just keep saying the words one by one. The thing is you have to say a word that starts with the same letter that the previous word ends with. The main goal of this memory game for seniors is to boost the memory up. Your elderly relative has to remember a lot of words and keep in mind which ones were already used.
Puzzle Memory Games for Seniors
2For many people, puzzles were the very first game to train their minds. As we age, we may forget how effective it is. One of the key advantages of puzzles is that by composing pictures from numerous details, older people relax, their blood pressure decreases, and their breathing normalizes. For some people, this activity is something like meditation, so it's especially suitable for restless grandparents.
Brain Games for Senior Citizens
3Below there are special exercises for memory and attention — vital skills for seniors that are easily lost without proper stimulation:
Name two items for each letter of your name. A more difficult task is to pick up five items for each letter without repeating.
Name all the months of the year in alphabetical order.
Name six or more items with the letter "C" that you can put on.
Carefully examine your surroundings for two minutes and try to find five red items that can be put in your pocket and five blue items that are too large for that.
Do not get disappointed if your relative fails to complete these tasks. It is not about winning here, it is about giving the brain regular exercises.
Sudoku
Sudoku is a great logical game for people of any age and with any abilities. It teaches you how to solve problems and find patterns in a series of numbers. The skills learned from playing Sudoku will be useful in everyday life: with their help, grandparents will be able to assess the consequences of the decisions they make every day. In addition, this is quite a difficult task, so a successfully solved Sudoku is a great achievement — and for elderly people, such achievements are the source of joy and a feeling of capability. Isn't that important?

Board Memory Games for Seniors
4One more type of mind game for seniors is board games. They are good for communication skills, attentiveness, memory, and much more.
Chess
This game of strategists is very old. Since ancient times people knew that chess helps to sharpen the mind. It trains the most important skills — strategy building, planning, and non-standard thinking. In other words, this is a great activity for people of all ages.
Another advantage of this perfect board game for the elderly will be especially vital for older people, who find it difficult to focus, is that playing chess improves concentration.
Card Games for Elderly People
5Card games have been humanity's favorite for many centuries now. They are interesting, often unpredictable, they excite people and bring out their competitive spirit. Talking health-wise, card games help to improve motor skills and memory, as well as socialize. Also, many complicated memory card games for adults require full concentration and even calculation, all of which are a great help to the aging brain.
Bridge
This game is not easy for those who have no idea how to play it, however, if your grandparents already have some experience with it, playing bridge with their friends will do them a lot of good! This game requires a lot of attention and thinking. Moreover, there are four players in the game, which means more communication!
Poker
The world-famous card game will help your seniors to be excited and enthusiastic. They can invite their friends over for the tournament, which will give them plenty of socialization, not to mention the benefits of playing the game itself! Concentrate, remember, calculate, take a risk – all of these things give plenty of joy to your elders. And joy is very important for their mental health.
Memory Games for Seniors with Dementia
6At All American Home Care, we offer many exercises and games for our seniors with dementia that not only stimulate their cognitive abilities (memory, attention, language, reasoning, etc.) but also have a positive effect on their emotional state and self-esteem. The best therapy is to spend time with them, surround them with the necessary love, care, understanding, and help them feel useful and important.
Object Classification
Ask a relative with dementia to classify objects. For example, you can ask him to put things in order in a box, with buttons to arrange them by color or size. For this exercise, you can also use foods such as vegetables, fruits, berries, or herbs, or small items such as balls, pebbles, shells, etc. These activities will stimulate executive functions, abstraction, and reasoning.
Board Games
Board games are great allies for stimulating the cognitive functions of relatives with dementia, as well as helping one to have a good time with the family. Play dominoes, checkers, or monopoly. Of course, the types of games should not be too complex. Choose games that are adapted to your family's capabilities. All of your relatives should understand the rules and enjoy the process. If the standard rules of the game seem too complicated, you can always simplify them and develop your own rules that will be clear to each player.
Conclusion
To maintain brain activity when a person is old is absolutely vital. There are many ways to do this, like games, or exercises, or just reading new books and meeting new people. At All American Home Care, we know how to help your seniors remain in their best mental shape as long as possible. Our caregivers are professionals, and they are able to provide a good and, what is more important, helpful company to the elderly people. We are always here for you and ready to help!