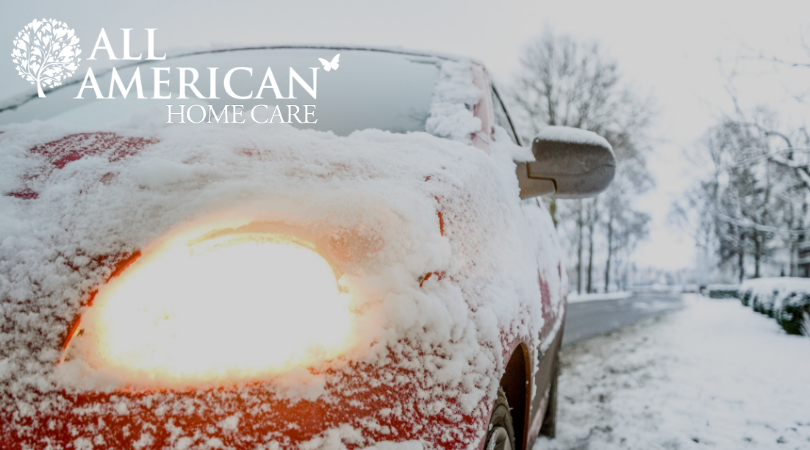 How to Stay Safe on the Job as a Home Health Care Aide in the Winter
October 25 2019
5 Tips to Ensure Safety During Cold Months and Bad Weather
While those cold chilly days and nights may bring pretty snowflakes and cozy evenings with hot chocolate for many, winter brings extra hazards for home health care aides while on the job. Icy roads and walkways are just one of those many other hazards. These 5 tips will help to keep you safe this winter.
Car Maintenance
1It is always a good idea to make sure that you are properly maintaining your car with regular oil changes, tire changes and other scheduled maintenance. Before hitting the road in bad weather conditions, make sure your tires are properly inflated and that your treads are still good. Also double check that your lights and your wipers are working. During the winter, occasionally check your wiper fluid and oil levels and replenish them when needed.
Driving
2Some days will mean just giving yourself enough extra time to warm up your car, but on other days when the roads are in poor shape from snow and ice, you'll want to give yourself plenty of extra time to get to your patients' homes. Be cautious when driving in poor conditions. This includes braking cautiously and accelerating slowly. Keep both hands firmly grasped on your steering wheel for optimum control of your vehicle. Do not text while driving and only use hands-free calling. Keep extra distance between you and the vehicle in front of you and drive at a slower speed. Do not cut anyone off, especially semis who take longer to safely respond.
Watch for black ice. This very dangerous road condition requires driving slowly over it. Signs of black ice include ice forming on mirrors, antennae or the upper corners of the windshield. When this happens, you will want to watch the road much further ahead than you normally do which will alert you to problems ahead more quickly. During a slide, if your car has ABS (anti-locking brake system), hold your brake.
If you are the first in line at a red light that turns green, be sure to check the other traffic before entering the intersection–you never know when someone is having a hard time braking and will slide into the intersection. Also be sure to drive cautiously in areas that are more prone to freezing, such as exit ramps, bridges and elevated overpasses. Also be cautious while driving through tunnels hidden from sunlight. Be aware that exit ramps, side streets and neighborhood streets may receive less anti-icing materials than main roads.  And don't be overconfident just because you have a 4×4 vehicle or studded tires. Bad weather affects all vehicles.
If roads are wet, you will want to ensure that you are not hydroplaning. The slower you drive, the less you will hydroplane. Steer clear of puddles when possible and refrain from driving in very heavy rain.
Make sure your car is stocked with winter supplies in case of an emergency. Not only do you want your scraper handy, but you also want to have jumper cables, some blankets, a flashlight and extra batteries, sand for traction or weighing down the back end of a truck, extra mittens or gloves, some non-perishable food as well as some extra washer fluid and antifreeze.
Walking Outside
3You may be visiting patients who are unable to clear their walkways of snow and ice, so wear snow boots outside and change into your work shoes once you are inside a patient's home. When you go to exit your car, look down at the ground to see if you are stepping onto any ice. Be careful when walking in slippery conditions and avoid walking in any areas that are not well lit in the evenings. Be extra careful on any steps or stairs and hold on to hand railings.
Household Hazards
4It is important to get your heating system serviced periodically so make sure that you schedule a check on your own system and if your patient needs assistance making a phone call to schedule their own service, be sure to help them with that or to remind their family caregiver to do so. You may also need to assist your patient with changing out the batteries on their smoke and carbon monoxide detectors. (It's easiest to remember to do this when you change the clocks in the fall and the spring.) And of course, be aware of the symptoms of CO poisoning (headache, dizziness, weakness, upset stomach, vomiting, chest pain and confusion) and get you and your patient out of the house immediately if you sense danger.
Staying Healthy
5Remember that winter brings on extra safety concerns for your health. Because you are caring for others who may have a compromised immune system, it is important that you care for your own health to avoid making patients more ill. Wash your hands often or carry some hand sanitizer with you. While seasonal food is super delicious, like warm pancakes with lots of syrup or that fudge you've been eyeing on your counter, those foods won't boost your immune system. Continue to eat healthy and only indulge once in a while. Make sure that you are getting proper sleep and also continue to exercise. And of course, don't forget to get your flu shot!
Remember, as a home health care aide, your patients are relying on you. It is imperative that you drive safely so that you can show up and that you take care of your health to ensure theirs. And indulge in a hot chocolate once in a while!