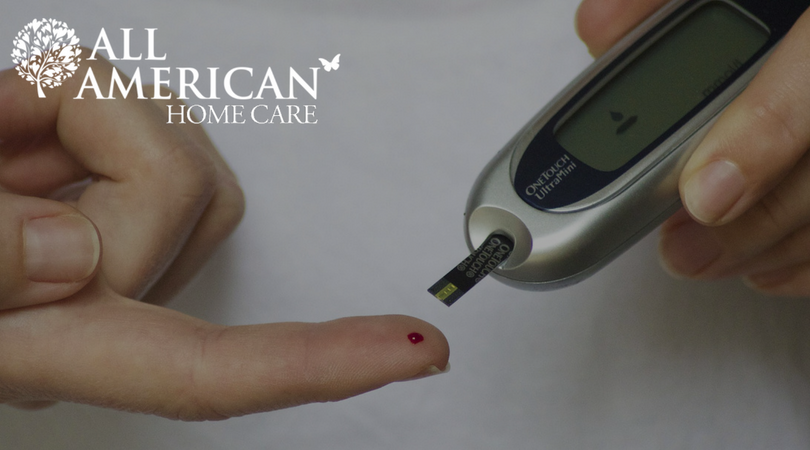 Care Tips for Patients with Diabetes
August 07 2018
Staying Healthy and Avoiding Complications
Receiving a diagnosis of diabetes can feel overwhelming for both the patient and their family. It can require a lifestyle change for the patient and even for their family.  As a caregiver, you'll be able to help and encourage your patient to stay on track with their healthcare plan.
General Tips
Remind them to take their medications as directed by the doctor.
Encourage the patient to stick to their meal plan. It is important to keep both cholesterol and blood sugar levels near normal.
Also encourage the patient to follow their exercise and activity routine. It is important to lose any excess weight.
Make sure they or a family caregiver tests their blood regularly. When the patient is sick, they will need to test more often.
Encourage the patient to keep their blood glucose as close to normal as possible.Normal levels should be 70 to 130 before meals and no higher than 180 after meals.  A1c test should be less than 7%.
The patient should also routinely test their blood pressure and keep it near normal.
The patient should not smoke and also avoid drinking alcohol.
Foot Care Tips
Make sure to check your patient's feet and skin. This should be checked daily, so make sure the patient or a family caregiver does this as well.  Look for cuts, scratches, cracks, calluses or blisters as well as changes in color, shape or temperature.
The patient's feet should be washed daily with mild soap and lukewarm water. The feet should be dried well, especially between the toes.  Foot powder can be applied if the patient tends to experience feet sweat. It is important to not soak the feet as this can cause dryness.
Toenails should be trimmed after bathing when they are soft. Cut the nails strait across then smooth with an emery board.  If the patient has problems cutting their toenails on their own, it is important that someone do it for them. Only a podiatrist should remove calluses and corns.
Encourage the patient to follow their daily foot exercises to keep the blood flowing well.
Feet should be kept warm, but avoid heading pads or hot water bottles that may burn the skin.
The patient should protect the feet by wearing comfortable leather or canvas shoes that will not cause calluses or blisters. New shoes should be broken in slowly by wearing them for one or two hours at a time.
They should not go barefoot, not even indoors. Clean cotton or wool socks should be worn each day.  The patient should never wear garters or stockings with elastic tops.
Dental Care Tips
Because high blood glucose can increase the patient's risk for tooth and gum problems it is important that the patient keeps up good dental and mouth health by brushing and flossing daily
Patients with dentures should soak their dentures and massage their gums daily. Dentures should also fit properly and not be too loose or too tight.
Encourage your patient to visit a dentist every 6 months. Their dentist should be told of their diabetes diagnosis.
Eye Care Tips
High blood glucose can damage the blood vessels in the retina, called retinopathy.The only way to detect damage is with a dilated eye exam.  A diagnosis of diabetes can also mean a greater chance of glaucoma and cataracts. Because of these risks, it is important to encourage the patient to get a complete dilated eye exam once a year.
Call the patients doctor immediately if they experience blurred or double vision, narrowed field of vision, are seeing dark spots, experience pain or pressure around the eyes or have trouble seeing in dim light.
Medicine and Supplies Storage and Travel Tips
All medicine should be clearly labeled and insulin should be kept in the original box with the prescription label and should be kept away from heat and light.Protect insulin test strips from both heat or cold
General Travel Tips
If the patient must travel, it is important to take a few extra steps and plan ahead.
The patient should always carry or wear their diabetes identification.
The following should be kept close at hand: medicines, insulin and syringes, blood testing devices, fast-acting sugar to treat low blood glucose.
Keep a snack handy in case a meal is delayed.
With a bit of curiosity and the willingness to do some research, you should be able to find a company that provides great care to its patients as well as values its employees. When you are part of a team that makes a difference and are rewarded for that hard work, you will find that most days, you love your job.