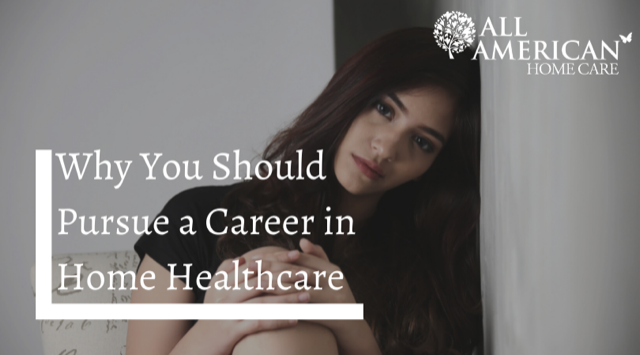 Why You Should Pursue a Career in Home Health Care 
October 25 2022
Why Home Healthcare is a Meaningful and Worthwhile Career Opportunity
There are many career options out there today. Even within the healthcare industry, there are plenty of options to choose from.
Many looking into a career in patient care often think of working in a hospital, clinic, or other facility. However, there are some benefits to working in home health that working in a typical healthcare setting doesn't give you.
Here are nine reasons why you should pursue a career in health care, but particularly in home health.
Ability to Make a Difference
1 The reason many go into health care is to help those in need. With home healthcare, you have the ability to truly make a difference in the lives of your patients and their families. You'll experience a sense of accomplishment that comes with knowing you are enhancing the quality of life for an individual right in the comfort of their own home.
Flexible Scheduling
2 Home health, unlike other healthcare careers, offers much flexibility in scheduling. Nurses and aides can work as much or as little as they wish. This makes home health perfect for compassionate people at any stage of life. This is because it is great for those going to school, raising a family, returning to the workforce, or those who are semi-retired. From part time to full time, home healthcare is always a rewarding field.
No Two Days are the Same
3 In healthcare, no two days are the same. Patients' needs are constantly changing and how you care for them should change with those needs. It keeps you on your toes and from getting bored at work!
Build Personal Relationships
4 Caring for someone weekly or daily gives you the opportunity to develop personal bonds with your patients and their families. You are providing comfort and companionship to those who need it. In many cases, home healthcare workers are often considered part of the family as they provide medical and emotional support to all involved during what could be a very difficult and vulnerable time.
The companionship built through these connections has also been shown to ease depression and isolation, particularly in older adults. It has also been shown to lower blood pressure and reduce risk for cardiovascular issues, mental health problems, and even dementia.
A Life Worth Living
5 Caring for others in their home means that you are helping make life more manageable for your patients. Many of us take our ability to perform daily living tasks for granted, but for those with disabilities, illnesses, or injuries, daily tasks can be a challenge to complete. Home health provides meaningful care that not only allows patients to live more independently at home, but also be able to do the activities they love, making life worth living.

Complex Care
6 Don't think that just because you are providing care at home that you can't provide complex care. Home healthcare has the ability to provide much of the same care as one would receive in a facility. You'll see patients with wounds, injuries, chronic conditions, and more. Thanks to technology, particularly mobile technology, you can provide the same level of care as in an institution like a hospital. There are even mobile X-ray machines that many home health agencies have to assess patients!
Room for Growth
7 Healthcare, especially home healthcare, has much room for personal growth and professional development. Many home health agencies nurture their employees in a supportive environment that encourages career development, including options for training and access to leading-edge technology. You'll find many paths for advancement with a career in home healthcare!
It's in High Demand
8 Due to the aging Baby Boomer population, health care jobs are in high demand. Not only will they need specialized care, but many are choosing to receive home care rather than move to an assisted living facility. This means that there are plenty of home healthcare jobs out there to be filled, and you'll have your choice of which agency you prefer to work for!
Personally Rewarding
9 inally, home health care is a deeply rewarding career field. Home health care employees report a deep sense of personal fulfillment and job satisfaction. How many other careers offer the opportunity to make a difference in the lives of so many while still having the combination of flexible scheduling and career growth? Home healthcare is your opportunity to do meaningful work that changes the lives of your patients and families, and there is no better way to get a sense of personal fulfillment!
The Benefits for Working for All American
If you are ready for a change in your career and want to have the opportunity to care for others in the comfort of their own home, All American Home Care would love to have you join our care team! We believe that our employees are the heart of our business and we approach patient care in the same way we would for our own family. We offer many amazing benefits including:
$350 signing bonus
A higher salary
Direct deposit of paychecks
Convenient locations
Bilingual personnel
Free life insurance
Free health insurance
A 401K plan
Generous paid time off after one year of full-time employment
Ready to experience the All American Home Care Difference? Visit our Careers page today to apply for your new, rewarding career!