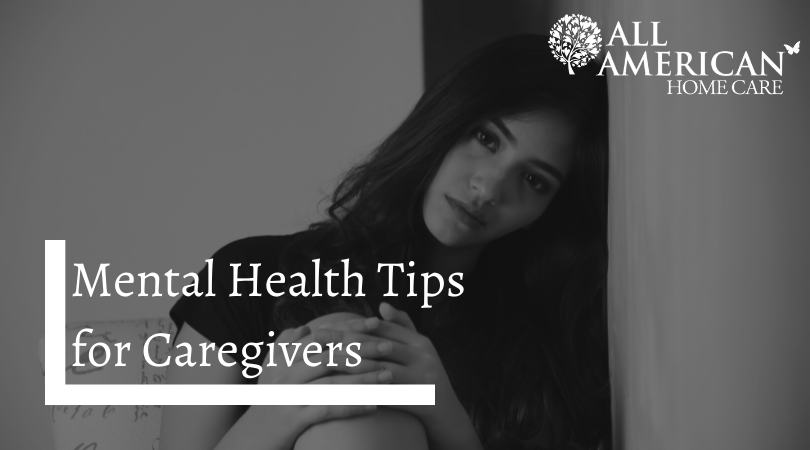 Mental Health Tips for Caregivers
May 17 2022
5 Tips to Help Caregivers Avoid Stress and Burnout
Caring for a loved one can be stressful and can strain even the most resilient of people. While it is important to meet the needs of the one you are caring for, you also need to take care of yourself. Whether you are caring for someone in hospice who only has months to live or you are facing years or decades of caregiving responsibilities, it is important to focus on your own mental health. 
When left unchecked, stress can take a toll on your health, relationships, and state of mind. It can eventually lead to burnout, which is a state of emotional, mental, and physical exhaustion. When you get to that point, you aren't able to care for your loved one to the best of your ability. 
In other words, when we care for ourselves, we can provide better care for others! 
Common Signs and Symptoms of Caregiver Stress and Burnout
Learning to recognize the signs of both caregiver stress and burnout is important. As soon as you recognize those signs, you can take immediate action to begin improving the situation for both you and the person you are caring for. 
Common Signs and Symptoms of Caregiver Stress
Anxiety, depression, irritability, sadness 
Feeling tired and run down often
Difficulty sleeping, getting too much sleep or not getting enough
Gaining or losing weight
Overreacting to minor nuisances, becoming easily irritated or angry
New or worsening health problems, frequent headaches, body pain or other physical issues
Trouble concentrating
Feeling increasingly resentful
Abusing alcohol, drugs (including prescription)
Changes in eating habits (eating more or not enough)
Neglecting responsibilities
Losing interest in activities you once enjoyed
Common Signs and Symptoms of Caregiver Burnout
You have much less energy than you once had
You get sick often with common illnesses, such as a cold or flu
You are always exhausted, even after sleeping or taking a break
You neglect your own needs, either because you are too busy or you don't care anymore
Your life revolves around caregiving, but it gives you little satisfaction
You have trouble relaxing, even when help is available
You are increasingly impatient and irritable with the person you are caring for
You feel sad, helpless, or hopeless
There are also risk factors for caregiver stress. These people who experience caregiver stress can experience changes in their own health. These risk factors include:
Being female
Having fewer years of formal education 
Living with the person you are caring for
Social isolation
Having depression
Financial difficulties
Higher number of hours spent caregiving
Lack of coping skills and difficulty solving problems
Lack of choice in being a caregiver
Strategies for Dealing with Caregiver Stress
It is key that you deal with caregiver stress before it turns into burnout. That is why it is so important to take advantage of the many resources and tools available to caregivers to help you provide better care for your loved one. Remember, if you don't take care of yourself, you will be unable to take care of your loved one. 
Accept Help
1 You don't have to do this alone. People want to help; be willing to accept that help! During a free moment, compile a list of ways that others can help you and your loved one. That way, when someone asks if you need help, you have a list ready to go for them to choose from. 
Another way to accept help is to work with a home healthcare agency. A medical team can help care for your loved one while a home health aide can help with tasks such as bathing, dressing, and toileting. This will allow you to focus on providing other needs for your loved one and enjoy your time with them more. Don't forget to take advantage of respite care offered by the agency so that you have time to go to appointments, run errands, or do something fun and relaxing with friends. You'll have the peace of mind knowing that your loved one is being well cared for and you'll come back feeling refreshed! 
Focus on What You Can Provide
2 It's easy and normal to feel guilty sometimes, but remember that no one and no caregiver is "perfect." Instead, focus on what you can provide and believe that you are doing the best that you can and making the best decisions at any given moment. 
Break it Down
3 Set realistic goals and break larger tasks down into smaller steps that you can do one at a time. Prioritize and make lists as well as establish a daily routine. 
Connect
4 Join a support group for connecting with people who understand what you are going through. The support group can provide validation and encouragement in a non-judgemental setting. It is also great for providing problem-solving strategies for difficult situations.  
Also connect with community resources that can provide education for caregivers and services such as transportation, meal delivery, or housekeeping. 
Be sure to stay connected with friends and other loved ones. It's important to not socially isolate yourself during this time as your friends and family can provide emotional support. Set aside time each week to connect, even if it's just taking a walk with a friend.
Set Personal Health Goals
5 It can be easy to let your own health slide as you focus on caring for someone else. It's important to take care of your health so it does not result in emotional and mental health issues down the road. Be sure to establish a good sleep routine, eat a healthy diet, and drink plenty of water. Take time to be physically active several days a week. Make sure that you visit your doctor for routine appointments, health screenings, and vaccinations. Also, talk to a therapist if needed.